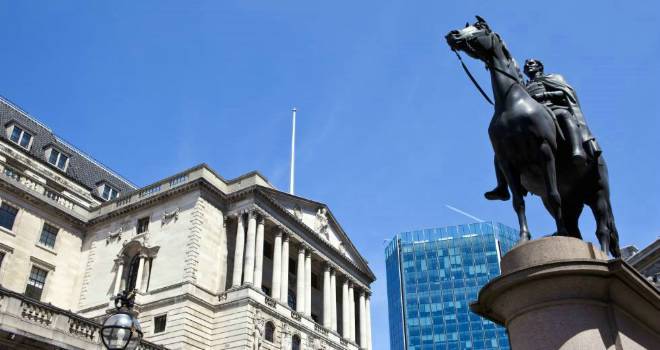 "The reality is that the Monetary Policy Committee is likely to leave rates on hold to support the economy as we go into Brexit negotiations."
The Bank of England's Monetary Policy Committee has voted by a majority of 5-3 to maintain Bank Rate at 0.25%.
Three member, Kristin Forbes, Ian McCafferty and Michael Saunders, voted to increase Bank Rate by 25 basis points. The meeting is Forbes' last before she completes her three year term on the committee at the end of this month.
Reasons for an immediate increase in Bank Rate included inflation reaching 2.9% in May, above the MPC's expectation, and pay growth has moderated further from already subdued rates.
The Bank of England now predict that inflation could rise above 3% by the autumn, and is likely to remain above the target for an extended period as sterling's depreciation continues to feed through into the prices of consumer goods and services.
But there were also arguments in favour of leaving the policy rate unchanged. Members noted that aslowdown in household consumption, and GDP as a whole, had recently begun, and "it was too early to judge with confidence how large and persistent it would prove to be".
On balance, for five members, the current policy stance was still appropriate to balance the demands of the Committee's remit as it "was as yet unclear to what degree weaker consumption would be offset by other components of demand".
Additionally, members noted that the Brexit negotiations, which have attributed to much of the recent economic activity including the substantial depreciation of sterling, involve "structural economic adjustments over which monetary policy had very little or no influence".
Nick Dixon, Investment Director at Aegon, commented: "The high inflationary environment has not been enough to force Carney's hand on interest rates, but in the shadow of monetary normalisation in the US, pressure is mounting for the Monetary Policy Committee to follow suit. Slowing wage growth and increasing cost pressures are also starting to take their toll on workers in every sector and, in an economy highly reliant on consumer spending, the Bank of England will be keen to keep inflation at manageable levels.
"Relieving these cost pressures now looks more difficult in the context of a minority government with a weakened mandate. Much of the economic outlook hinges on Brexit negotiations, where the prospect of a softer exit from the EU could relieve some market pressure in the medium term. Sterling could consequently start to look more stable, giving the Bank of England some breathing room to pull forward a decision to raise interest rates later in the year."
Michael Allen, Chief Investment Officer at Momentum UK, added: "The reality is that the Monetary Policy Committee is likely to leave rates on hold to support the economy as we go into Brexit negotiations. Members may also be expecting that this period of high inflation will start to fade as year on year currency devaluation effects and increase in underlying energy prices roll out of the inflation basket."