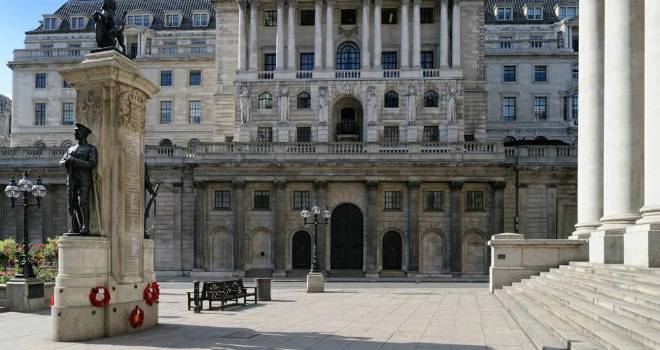 The Bank of England's Financial Policy Committee says that domestic risks to the UK banking system have risen beyond their subdued levels during the immediate post-crisis period.
The outlook for financial stability in the UK has deteriorated since the Committee last met in November 2015, partly due to risks around the EU referendum.
The Committee argued that "heightened and prolonged uncertainty has the potential to increase the risk premia investors require on a wider range of UK assets, which could lead to a further depreciation of sterling and affect the cost and availability of financing for a broad range of UK borrowers".
It added that these pressures have the potential to reinforce existing vulnerabilities for financial stability.
The FPC also raised concerns surrounding the re-acceleration of credit growth in China, a low inflation environment, and weakness in investment and productivity growth.
The Committee continued:
"In some advanced economies, lower nominal interest rates associated with weak growth prospects are restraining profitability in banking systems that are still in post-crisis repair and pose challenges for some banking business models. Globally, bank equity prices have fallen significantly and a material proportion of banks are now trading below book value."
These risks are reflected in the 2016 stress test scenario for major UK banks - the first annual stress test scenario to be designed under the Bank's new 'Annual Cyclical Scenario' framework. The test will examine banks' resilience to a macroeconomic and traded risk stress linked to the FPC's assessment of the risk outlook, along with a misconduct stress.
Overall, risks stemming from domestic credit have risen beyond their subdued levels during the immediate post-crisis period. However, the FPC judges that they are not yet elevated, but that it "remains vigilant to risks in this area".
The FPC said it will also 'remain alert' to potential threats to financial stability from rapid growth in buy-to-let mortgage lending.
The outstanding stock of buy-to-let mortgages has risen by 11.5% in the year to 2015 Q4. The macroprudential risks centre on the possibility that buy-to-let investors could behave pro-cyclically, amplifying cycles in the housing market, as well as affecting the resilience of the banking system and its capacity to sustain lending to the wider real economy in a stress.
However the Committee notes that growth of buy-to-let mortgage lending is likely to slow in Q2 as changes to stamp duty take effect.