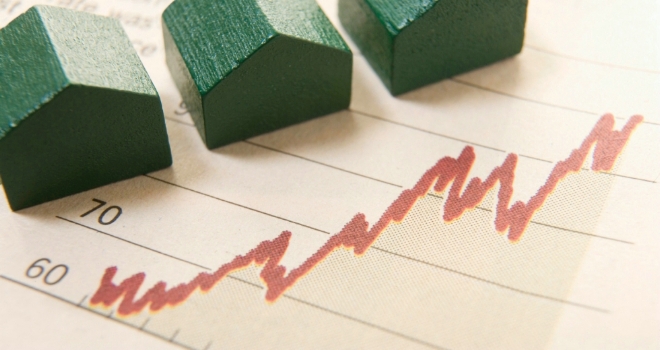 "Last month Nationwide reported that house prices rose at their slowest rate in almost four years so this is a welcome change"
House prices rose by 1.1% between May and June, reversing the previous three months' falls, according to the latest Nationwide house price index.
Annual house price growth has now risen to 3.1% from 2.1% in May. Nationwide's Chief Economist, Robert Gardner, said that "in effect, after two sluggish months, annual price growth has returned to the 3-6% range that had been prevailing since early 2015".
The index also shows a shift in regional house price trends. Price growth in the South of England has moderated and as a result, in Q2 the gap between the strongest performing region (East Anglia, which saw 5% annual growth) and the weakest (the North, with 1% growth) was the smallest on record, based on data going back to 1974.
London saw a particularly marked slowdown, with annual price growth moderating to just 1.2% - the second slowest pace of the 13 UK regions and the weakest pace of growth in the capital since 2012.
Mark Harris, Chief Executive of SPF Private Clients, commented: "The gap in house price growth between the strongest and weakest performing parts of the UK is closing. With prices in London spiralling out of control, and the market now entering a period of correction, buyers are looking outside the capital either for investment properties or to live and commute from. A city such as Birmingham is just over an hour away, for example - with people prepared to commute for that long if it means a more affordable property.
"Debate is starting to grow over whether interest rates need to rise but while the monetary policy committee was split at the last meeting, the majority still feel that the recovery is too tentative to justify a rise at this stage. With Brexit negotiations likely to be long and complex, it may be that an interest rate rise will be delayed as long as possible. In the meantime, mortgage rates continue to look extremely competitive, as lenders remain keen to lend."
Jeremy Leaf, north London estate agent and former RICS residential chairman, added: "These figures are a little surprising when you consider some of the mixed messages that we have been receiving from the housing market over the past few months. But they do demonstrate that activity is happening where buyers and sellers are prepared to be realistic and take advantage of the low mortgage rates available.
"Last month Nationwide reported that house prices rose at their slowest rate in almost four years so this is a welcome change but does underline the dangers of looking at one month's figures in isolation as the market can be quite volatile."