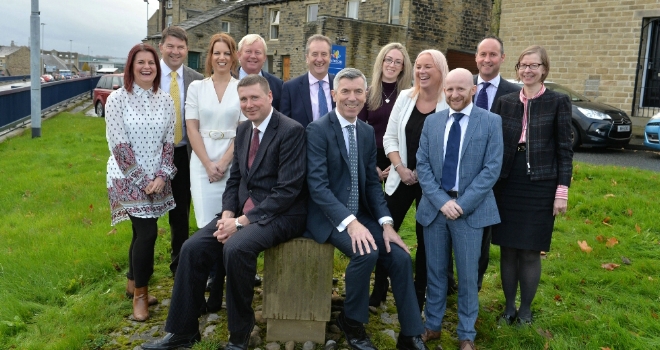 "Initially starting from home in October 2007, I acquired offices after only 6 months. First lesson. Look professional, behave professionally, and people are more likely to buy you, and buy from you."
Its August 2007. Queues are forming outside Northern Rock. The first signs of the financial chaos taking shape that would knock the world sideways over the years to come. And after 28 years of life with HSBC, I took the plunge to leave the Bank and set up my own commercial finance business!
I saw the gap in the market for a professional, knowledgeable and ethical firm to fill the space that was then already starting to emerge in the provision of commercial and property finance.
With no redundancy package, and still on good terms with the bank, I left HSBC. Why? Because I didn't want to end up like many colleagues – counting the days down to retirement whilst under increasing pressure and stress at the Bank. It was to be the start of a second career utilising my skill and learnings acquired since entering the Bank at age 18.
Initially starting from home in October 2007, I acquired offices after only 6 months. First lesson. Look professional, behave professionally, and people are more likely to buy you, and buy from you. Simple as that. The team at Key are all trained to behave like and project ourselves in a manner associated with the Bank Managers of old. A smart office was an integral part of this.
In October 2008, Lehmans had just filed for Bankruptcy. The financial crisis was nearing its peak. And after only one year, I took on my first member of staff, Helen. Good timing? I knew Helen well, having worked together previously at the Bank. She could be completely trusted, and behaved in a way consistent with the standards and requirements of the business. Lesson two. Take on the best staff that you can afford. Indeed take on people that are better than you in many regards. Helen certainly complemented me well with an opposite and complimentary skills set to his own. Do not take on clones of yourself if you want your team to be well balanced!
In 2009 following the failure of Lehmans, the world seemed to spin more slowly. Enquiries dropped, and the Banks stopped lending. And Key had more overhead as well! Fortunately, in my early days, I had built up some cash, enough to cover his costs for more than 6 months without income. Whilst it was a worry, I was able to trade through that difficult year. Lesson 3. Always keep a good financial buffer. Don't rely on overdrafts as your buffer. When the going gets tough, many lenders may withdraw that overdraft. To this day, our policy is to keep enough cash in the business so as to cover several months overhead to help guard against the unexpected.
January 2010. It was as if the tap had been turned on again – at least a little. I recall January that year when more enquiries started coming, and the business felt like it had turned a corner. Aldermore had recently entered the market. And more bridging lenders were also arising as people sought higher returns on their savings. This continued into 2011 with more lenders and more enquiries. The worst seemed to be past, and the market was under supplied with good brokers as many had ceased trading during the recession. Lesson 4. Take opportunities when they arise. I now think that I missed an opportunity then to grow and expand more aggressively during those years, when demand picked up and many brokers had left the market. The prudence that got me through 2008 and 2009 probably played against me in later years.
2012. Business continued to improve and we were busy. I met Gavin, who I knew from previously working in the Bank. Gavin seemed keen to work for Key and so I recruited him. A solicitor was utilised to create the employment contract. Whilst very detailed, I assumed that the solicitor would build in all the appropriate wording required. After three weeks in the business (on "trust"), Gavin decided that he didn't like the contract and it turned out he had actually consulted a lawyer of his own to review it. His lawyer pulled it to pieces. Ours held firm with her views on employment contract requirements. Lesson 5. Don't let Lawyers effectively take over your negotiations with anyone – it will cost you much money and time. Gavin left, under the misapprehension that I was trying to do something that he wasn't. A "lose lose" outcome I think is the saying!
So onto lesson 6. Don't let failure knock you back. Work on being resilient. Resilience is often cited as one of the most important qualities of people in business and I wholeheartedly agree! In 2012 I recruited a further manager to fulfil what had been planned with Gavin. I amended the dreaded employment contract to make it more user friendly. And that was really the start of an expansion which has steadily continued to the present day. The same year I also took on my first "licensee" – a manager dedicated to the business but treated as self-employed.
By late 2012, with more people around the small offices were starting to feel a little constrained. New premises were needed. The business purchased its own building near the centre of Huddersfield. This provided enough space for the present, and for some time in the future (or so I thought). But the business purchased premises this time rather than renting again. My lesson 7 – if you can do so, always buy rather than rent even if it stretches you financially. Paying rent is money down the drain.
The business has continued to grow. New business and revenues increased. The team expanded to 14 through the next few years. Most of the people we have taken on are great, being very experienced client managers and brokers. But in our haste to grow, we "experimented" with team members who did not have a solid commercial finance background, but whom were keen. The world of commercial finance is a massively diverse and complex environment, and those who do not have a track record and long experience in it struggle to gain traction. We took on a couple of people over the years with little and insufficient experience who have since left. They wrote little business, and were probably not credible to their clients and other introducers with consequent potential impacts on the reputation of the business. Lesson 8. Training and experience in commercial finance is essential to succeed in commercial finance broking, preferably via time spent in a professional commercial finance environment such as a Bank. One can expend huge amounts of time and effort in supporting those who have insufficient experience and knowledge and still not succeed with them.
There have been temptations, indeed attempts by us to expand the business into new products and services over the years. We collaborated with a well know card processing provider to cross sell card processing services. We would hasten to add that this was not just making introductions, but actually doing a lot of the work towards setting up facilities so a great deal of learning was required, some of which we paid to acquire. The reality is, again, that the vast world of commercial finance and business is enough for most people. Trying to actively promote card processing services as well (as opposed to simply referring existing commercial finance clients) was a step too hard and took ones eye off the core business. So, Lesson 9 – stick to what you are good at. Avoid the temptation to try and be all things to all people. You will never be an expert at any one of the services you offer if try to offer too many.
And finally lesson 10. This is the big one, and takes us back to the start of this piece. If you are unhappy or can see the writing on the wall and can see an opportunity, then take it. Life is too short to toil and labour at something which is stressful or not for you. I wanted to have a second lease of life and do something exciting. There must be a mix of prudence and not be too rash however. I planned for my new enterprise over the course of a year or so, considering options, studying the competition and saving money to provide a financial cushion. So lesson 10 – do what you want to do, but plan carefully for it. Leaving a good salaried job is like jumping off a cliff into the unknown. But with good planning and preparation you can put a big bouncy cushion at the bottom of it so you land softly and quickly rebound!