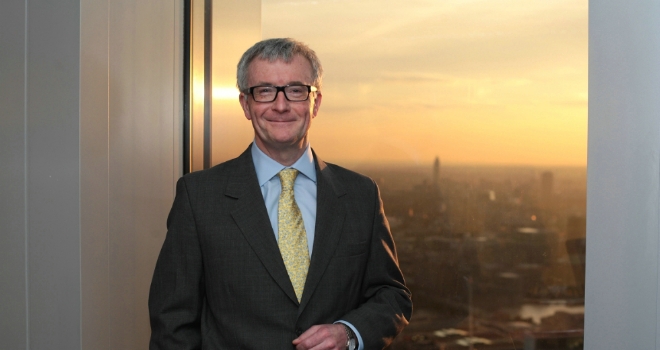 "It's business purpose lending for the self-employed, business owners and entrepreneurs, and I think it is a huge area of untapped potential for brokers."
We spoke to Matthew Wyles, Executive Director at Castle Trust Capital plc, about the lender's recent relaunch, the outlook for 2017 and untapped opportunities for brokers.
FR: Why did you choose to relaunch the Castle Trust proposition?
When Castle Trust launched back in 2012, we attracted a lot of attention as a specialist provider of equity loans. Since then we have developed and reshaped our offering – a lot has changed during the last three years.
This relaunch consolidates the changes we have made. Much of what we do is unique - we don't expect to transact with every broker in the market, but to those brokers who work with high net worth clients, the self-employed, entrepreneurs and portfolio landlords, I would say that you can't afford to miss Castle Trust from your armoury.
Our sophisticated and flexible approach delivers innovative, bespoke solutions to meet a broad range of customer needs. We write first and second charge loans, with interest serviced or rolled up - or a mixture of both. We have the appetite to do interesting things and the expertise to ask the right questions. And we're very commercial - if it makes sense, we'll find a way.
FR: Are there still opportunities for brokers in buy-to-let?
For smart intermediaries, the opportunities have never been greater. But the buy-to-let landscape is changing and brokers need to respond creatively and flexibly. The 'stack it high, sell it cheap' game is over. There is no doubt that the alterations which George Osborne made to the tax treatment of buy-to-let mortgage interest deductability will hit some parts of the market hard – some small investors will get out, whilst larger investors will get bigger and more sophisticated. And this will create room for brokers to add real value by advising those serious landlords on a whole set of new strategies for their businesses.
The Osborne tax changes and the PRA response via SS13/16 will shake landlords out of their comfort zone and force everyone to review their approach. Winners in the intermediary market will be proactive in taking fresh ideas to their landlord clients. Think about alternative ways to leverage a portfolio with a second charge, as well as other areas of investment that could provide better total returns, such as HMOs, student accommodation or holiday lets. There is also potentially greater opportunity in ex-pat buy to let as a weaker pound makes the UK market more affordable
FR: Many lenders claim to be specialists in self-employed mortgages – what makes Castle Trust different?
I anticipate that some of the more recent entrants into the lending market, who are still finding their niche, will target the self-employed market. I think their primary focus will be first charge mortgages to assist the self-employed into home ownership.
But there is another angle to self-employed mortgages, which is our speciality, where an entrepreneur wants to access the equity in their existing home to invest in their business – a lot of lenders shy away from that space.
But MCOB makes specific provision for this objective and has permitted a so-called "business purpose exemption" which expressly enables a business owner to tap the equity in their home as a source of low-cost working capital, via a second charge loan that is not subject to the same restrictions as a first charge owner-occupier mortgage.
And this is part of what we offer at Castle Trust. It's business purpose lending for the self-employed, business owners and entrepreneurs, and I think it is a huge area of untapped potential for brokers.
FR: What should brokers look out for in 2017?
Brexit is going to be a source of uncertainty for several years so at a macro- economic level, I do not believe we are going to see a roaring bull market in housing. But never forget that the structural shortage of housing in the UK will continue to underpin demand – that isn't going to change in a hurry.
Similarly, despite the rebirth of inflation, I can't see much upward pressure on interest rates in the medium term – without rate rises I can't see any prospect of a boom in remortgaging. Any growth in the owner occupier segment will be balanced by contraction in buy to let so it looks like being a pretty flat year in terms of market growth. But in my experience good brokers don't care about overall market growth – there are lots of new lenders keen to write business and that means opportunity. But you have to keep your eyes & ears – and most of all, your mind – open.
From a regulatory perspective, it will be interesting to track the progress of the FCA market study into competition. We can expect it to consider the role of networks and sourcing systems in controlling the visibility and distribution of products as well as the role of proc fees. There is also bound to be scrutiny on the level of influence which house builders and estate agents have on the mortgage choices of potential buyers. This study may prove to be a damp squib or it could create some major structural changes to the way in which the market functions in the future.
FR: What is your best tip for brokers this year?
Knowledge is power but only when combined with creativity and fresh thinking. Whilst you need the raw information which sourcing systems provide, they don't deliver true solutions to any but the simplest of circumstances - it is the ability to understand and respond to each client's needs with clever new angles which will determine the winners and losers. The market is getting increasingly more complex – that is a huge opportunity for advisers to create real value for their businesses by building strong, enduring customer relationships – clients need help more than ever.