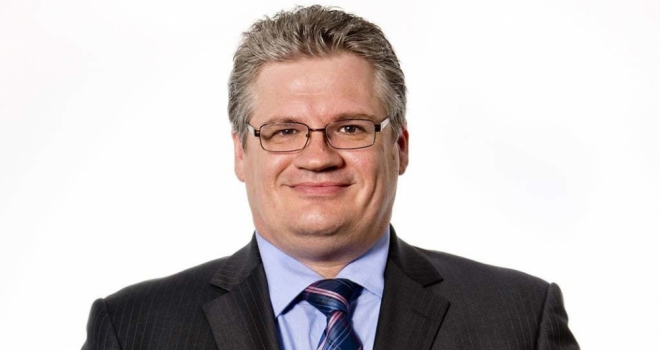 "Retirees need to take into account not only their current circumstances but also their possible future situation, including considerations around long-term care."
We spoke to Russell Warwick, managing director of Primetime Retirement, about the popularity of fixed term income plans and what's next for the Pension Freedoms.
FR: Following the launch of Pension Freedoms, the annuities market initially dropped. How has the market evolved since then and how do you see it developing over the next year?
Seeing the annuity market drop in the aftermath of Pension Freedoms was not a great surprise to anyone, mainly due to the broader options on offer in the market and to an unfair negative consumer impression associated with the annuity market.
Since Pension Freedoms we have seen a steady recovery of the annuity market to a more sustainable level. This has been driven by increasing lifetime annuity rates up 20% from their historic low in 2016, and broadening understanding that annuities have a valuable place in the market. Also, the realisation by retirees that no "golden bullet" alternative exists, which provides the same protections and a better return, has led to annuities being more in favour.
The next couple of years is likely to see broad innovation across the annuity market as retirement product providers seek solutions that generate higher levels of retirement income to bring more choice to consumers, which whilst maintaining a reasonable level of protection against investment and mortality risks.
FR: How can fixed term income plans be better integrated into retirement planning, and what benefits would this bring?
A combination of Pension Freedoms and all time low annuity rates saw fixed term income plans move from a niche product to becoming part of mainstream retirement planning.
Fixed-term annuities have the added advantage of providing retirees with greater flexibility around their future retirement decisions. Rather than needing to make a lifelong commitment when taking out an annuity, retirees can opt to annuitise for a fixed number of years, allowing them to decide the best way forward depending on their circumstances at the end of the term.
By allowing retirees to plan their retirement in stages in this way, fixed term income plans allow them to flexibly meet their income needs, whilst maintaining a level certainty, making these products an increasingly attractive choice.
With a wide range of options available in the fixed term annuity market, including terms ranging from 3 to 25 years and income levels varying from nothing to all of a retiree's fund over the specified period, advisers have also been finding numerous ways to utilise these products in retirement planning with customers.
The market however has only become partly developed, with some advisers using these products regularly and others still simply using the polarised lifetime annuity and drawdown solutions. Over the next two or three years, I believe we will begin to see greater use of fixed term income plans, as more retirees and advisers understand the benefits of using these products as part of holistic retirement strategy.
FR: What are the greatest challenges for retirees when it comes to retirement planning, and what role can advisers play in combating these when dealing with clients?
Sadly, for many retirees, being unable to accumulate the level of funds required to fund a comfortable retirement remains the greatest challenge. By default, this tends to be less evident in the advised sector, as we tend to deal with wealthier individuals who have accumulated some retirement funds. However, it's important to not lose sight of the fact that, as an industry, we need to do all we can to educate and engage more people with their pensions as early as possible to overcome these later life issues.
No matter what level of retirement savings they have, most retirees still face a crucial choice between the level of income needed to enjoy the earlier, more active years of retirement and the amount required to fund their needs later on. As part of this, retirees need to take into account not only their current circumstances but also their possible future situation, including considerations around long-term care.
Advisers play a crucial role in educating retirees about the options available to help them make an informed decision. Changing demographics and societal shifts mean the needs of retirees have changed and it is important for the industry to have a greater appreciation of this. It has long been recognised that income needs through retirement are not level and tend for most to be "U" shaped. However, most products and plans still focus around creating a level sustainable flow of income. Evolution in both product design and planning approach is likely to be seen in this area over the next decade.
FR: What types of customers are best suited for fixed-term annuities?
Almost all clients would benefit from including fixed-term annuities in their retirement plans. With an expanding retirement market, it is more important than ever for retirees to be aware of the choices available. It is vital that they then use this knowledge to build a portfolio that incorporates a mix of products, including annuities, to meets their specific needs in retirement.
The nature of fixed-term annuities means they are a very useful option for those at retirement, they enable retirees to alter their financial choices at a later stage to reflect any changes in their needs. Some individuals may experience a deterioration in their health or require an increased income to help meet their living costs. For some, deferring the decision may offer the opportunity to take advantage of lifetime annuities at a later stage if they provide better value due to interest rate rises or qualification for enhancements. For others, it could help create a bridging income, until either state benefits or additional forms of retirement income come into play. More simply it could just be a case that they have not yet established their long-term plans.
However, what is certain is that an annuity should be seen as part of a blended strategy, with annuities providing the income security to help retirees meet their essential expenditure.
FR: If you could see one headline about the retirement market in 2018, what would it be?
Clear evidence emerging that consumers and their advisers are making better and more informed choices in their retirement planning.