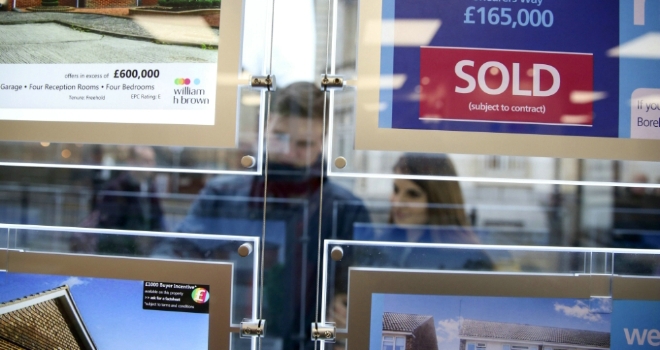 "It is hard to see what is going to provide much impetus for activity in the housing market in the near term. "
Sales activity in the UK housing market remains subdued and any improvement in new properties coming to the market is "likely to be very short-lived", according to the latest RICS UK Residential Market Survey.
In June, newly agreed sales recorded the sixteenth successive month of continued decline and RICS believes this continued decline in newly agreed sales suggests that the softer trend in sales volumes will not improve over the coming months.
The number people looking to buy also remained flat in June, prolonging the trend which dates back to late 2016. RICS says this is likely to persist through the second half of the year with the time taken to complete a sale edging up from around sixteen weeks in 2017 to around eighteen weeks at present.
For the second month in a row, new instructions have risen, with 10% more respondents seeing an increase in the flow of properties being put up for sale. However, with average stocks remaining close to historic lows at 43, RICS believes it would be too early to suggest that this issue is lessening as an obstacle.
Looking ahead, sales expectations are mildly positive for the coming three months, but at the twelve month point chartered surveyors are more cautious, with the net balance slipping to zero for the first time since last October.
The lack of activity on the sales side also continues to impact prices. At the headline level they remain flat in June, and it is the thirteenth consecutive month that chartered surveyors have reported a sluggish picture, with respondents not anticipating much change in the coming three months either.
Simon Rubinsohn, RICS chief economist, commented: "It is hard to see what is going to provide much impetus for activity in the housing market in the near term. Meanwhile the on-going challenges around lifting the delivery pipeline, reflected in last week's disappointing data on housing starts, is captured in the suspicion in the survey that prices are likely to resume an upward course over the coming year. The challenge is also visible in the response of the private lettings market to change to the tax treatment on investment properties. While it is understandable that the government wanted to provide a lift for first time buyers, this may well come at the cost of higher rents as the appeal of buy to let diminishes."
Geoff White, RICS policy manager, added: "This is one of the most complicated market situations that we have seen in some time, and with some of the working policy solutions taking a long time to get to market we're seeing a difficult situation get worse.
"Faced with the uncertainty around Brexit, recent government changes and a shortage of skilled trades such as bricklayers, as identified by Sir Oliver Letwin, and you can see how the new Housing Minister Kit Malthouse – the eighth person to have that title since 2010 – has his work cut out."