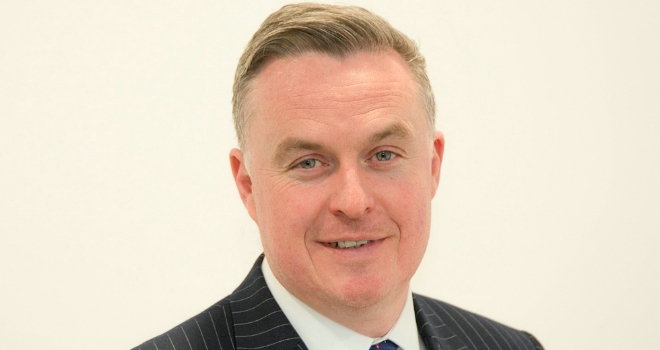 "At OSB we believe strongly in diversity and equality in the work place and we signed up to the Women in Finance charter in January 2017"
As the nominations period for our Women's Recognition Awards continues, we're bringing you a closer look at our judges and why they chose to be involved in our inaugural Awards programme.
FR: Why did you decide to join the judging panel of the Financial Reporter Women's Recognition Awards?
I was honoured to be asked to join the panel as it's something I feel strongly about both at work and at home. At OSB we believe strongly in diversity and equality in the work place and we signed up to the Women in Finance charter in January 2017 pledging our voluntary commitment to build gender equality in all areas of our business. I'm also the proud father of two daughters and I want to play my part in ensuring that they receive equal opportunities within any field that they choose and I see these awards as part of that on-going educational journey.
FR: Why is gender parity in financial services so important, and what more could be done to ensure equality?
Gender parity should be a key focus in every industry, not just financial services and I feel we are making progress but we need to do much more and that's why these awards are so important. There isn't a quick fix here but there are plenty of ways that we can help gender equality become a reality, for example by committing to increase the representation of women undertaking senior positions within organisations, I firmly believe that greater diversity strengthens the capabilities of our managers and positively impact all our employees. I'm also passionate about providing a fair and diverse workplace with flexible working
FR: Tell us one woman who has inspired you, in or outside of financial services, and why.
Clare Jupp comes to mind immediately – she is the people development director at Brightstar and has been instrumental in promoting and progressing the 'women in finance' message within the finance sector. Clare works tirelessly to ensure that the equality debate remains relevant and I've certainly learnt a lot from her. She is a prime example of someone whose knowledge and experience within the industry is being channelled for the greater good and she is certainly inspirational.
FR: Why is it just as important for men to be involved in the push for gender equality?
It will only work if both men and women are fully on board. It's not enough just to talk about it, we need to take concerted action and put systems into place to make this second nature. Gender equality can never be really achieved if men are not involved in the discussion, debate, and ultimately action.
FR: And lastly, why should people vote in the 2018 Financial Reporter Women's Recognition Awards?
These awards serve as an important platform from which to spotlight gender equality within financial services and to rightly applaud those who are leading the way and serve as best practice examples - I'm really looking forward to meeting some truly inspiring people who are ensuring that gender equality remains a fundamental focus and to celebrate their achievements.