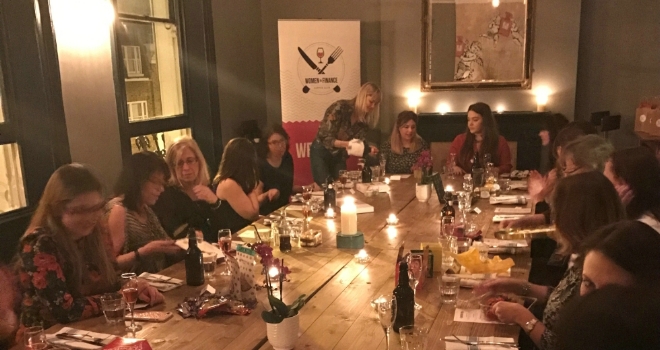 Last night saw Barcadia Media's first Women in Finance Supper Club event, held in Fulham, and brought together over twenty women from a cross-section of the industry to discuss the challenges and opportunities available to women in financial services.
The inaugural event was based on a 'pairing and sharing' format, and attendees were treated to a tasting menu of champagnes paired with luxury chocolate before moving onto the discussion - which was an enlightening look at how the culture of an industry affects those working within it.
The discussion centred around an excerpt from the Oliver Wyman 'Women in Financial Services 2016' report which asserted that "in mid-career, a significant gap opens between men and women in their willingness to make sacrifices in their private lives and in their career ambition levels".
Attendees produced a lively and interesting debate based around the topic of ambition, with the conclusion that working culture - and flexibility - played a huge role in allowing women's ambitions to be realised in the workplace. There was also positive feedback for the changes that have taken place in financial services to ensure a more inclusive culture for women, and particularly working mothers, that most attendees felt were a step in the right direction.
The next Women in Finance Supper Club will take place in May - if you are interested in attending, please contact Sophie Fuce on sophie@barcadiamedia.co.uk.
Barcadia Media's Events Manager Sophie Fuce said:
"The Women in Finance Supper Club is inspired by the Women in Finance Charter, and the aim is to give women at all stages of their career an opportunity to come together and discuss ways in which women in the industry can work together to improve visibility, opportunities and wellbeing. Our inaugural event was a fantastic success, with a diverse range of women around the table, and lay a solid foundation for future Supper Club events."
Content Editor Amy Loddington said:
"This is a topic that I feel incredibly passionate about, and having worked in financial services for five years now it's been a delight to see this event come to life. Helping create open, interesting conversations between women in a variety of roles from across the industry feels like a hugely positive step and I'm very proud to say the first Supper Club did exactly that."