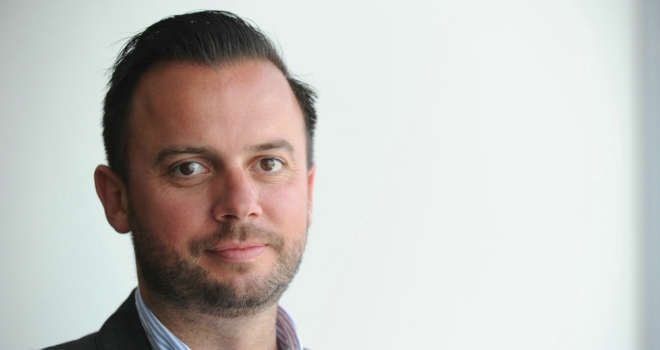 "I always believed that Financial Services Expo would be a breath of fresh air for an industry that was on the return, after the lows of the post-Credit Crunch world"
We spoke to James Prosser, Director of Front Events, organisers of the Financial Services Expo shows, about next week's FSE London and the areas to watch in 2018.
FR: You started Front Events and Financial Services Expo five years ago. What prompted you to launch the show, and do you think you've achieved what you set out to?
I always believed that Financial Services Expo would be a breath of fresh air for an industry that was on the return, after the lows of the post-Credit Crunch world, and in my view was being completely under-served by the other 'major' exhibitions. Since day one we have invested heavily into everything that we do whether that's through marketing, databases and website builds, or indeed the look and feel of the shows themselves which (in my humble opinion) are very different to all others.
I think you know straight away when you're walking into an FSE show and hopefully it's a sign of quality and, for advisers, a day well spent. This has given us the edge over our competition and we are constantly evolving with market developments. Being close to the market helps and listening to what exhibitors and advisers are interested in also ensures that we develop around where the market is heading, and deliver what they want.
FR: Why should advisers attend Financial Services Expo London?
The breadth of exhibitors gives them a fantastic networking opportunity along with a first class seminar programme. This year's programme I'm proud to say is our best yet. While there are certain sessions which fit a one-speaker format – and I think that's definitely the case with the FCA who advisers want to hear from and question – I also think it's important that we have an array of voices speaking from different perspectives.
Our most successful sessions in the recent past have tended to be panels where advisers get to question key industry players – at FSE London, for instance, we have some major, mainstream lender representatives discussing the key issue of technology and how it might be shaping today's market. Plus, we're looking at key market sector such as the ever-changing buy-to-let sector and later life lending. Plus, let's not forget that Old Billingsgate is easy to get to and is a beautiful iconic building which is fitting for an event like FSE.
FR: This year you've also launched the National Mortgage Adviser Awards. Tell us more about this and why you think it's important for the advice community.
We didn't want to launch an awards ceremony that was similar to any other in the market. I'd been toying with the idea of a regional adviser awards programme for a few years and felt that FSE London was the right platform for this. In that sense the NMA's is about recognising brokers across the UK and giving everyone a chance – having talked to a lot of advisers, there was always the underlying feeling that they had little chance of picking up the big awards because they were not one of the 'big boys' or they were outside the M25. With the NMAs nothing could be further from the truth and this will be a badge of honour that advisory firms can wear in order to show the quality of their advice proposition. At the end of the day it's all about pushing firms to be the best they can be, recognising their achievements, and helping them tell their story to as many clients as possible.
FR: Running these shows means you have your ear to the ground when it comes to financial services - what area is the one to watch in 2018?
This could be a little like teaching your grandmother to suck eggs, because there's no-one more able to tell you what the best performing areas are (both now and in the future) than advisers themselves. I don't think it will be a great surprise to anyone that I believe the remortgage market will continue to drive the sector for some time to come – as has been mentioned recently there are a large number of deals coming to an end between now and the end of the year and that's a lot of repeat business for advisers to get their hands on. Plus, of course, add in the product transfer market which (up until now) has predominantly been a lender-only affair and there could be a lot of potential business out there.
The other major area that I think all advisers need to take seriously is the later life market – this is certainly opening up and the demand is clearly there, whether it's lending into retirement or equity release. Plus we also have to accept that the demographics lend themselves to older clients who are able to pay for advice, need it, and want to engage with professionals. This is not just about mortgages but the entire advice needs of those nearing, or in, retirement – those advisers who can successfully diversify across numerous later life product areas are going to reap the rewards.
FR: If you could see one headline about financial services, what would it be?
My own view is that the market could do with some good news, particularly when it comes to boosting purchase transactions. Which means that it would be very beneficial for there to be a stamp duty rethink by the Chancellor in his November budget. I'm not entirely sure that first-time buyers need any more help but a stamp duty holiday for them and a u-turn on the additional property stamp duty charge would certainly go down well. Given the money that's currently being generated though, it looks unlikely, but it would undoubtedly provide a boost.