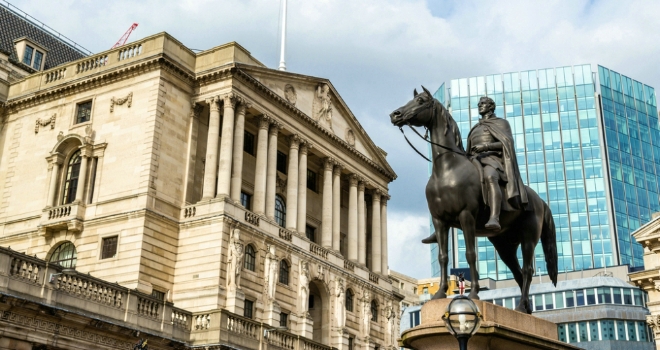 "The increase is likely to be lower than it may have originally preferred as it is likely to be keeping an eye on the impact on the economy bearing in mind events in Ukraine and the consequences for energy prices."
Six weeks ago, the MPC voted 5-4 to increase Bank Rate from 0.25% to 0.5% and four members voted to increase rates by a larger 0.5 percentage points, to 0.75%.
Today's widely anticipated rise follows an increase in Bank Rate from 0.1% to 0.25% at the MPC's meeting in December.
The Committee said that global developments since its February Report are "likely to accentuate both the peak in inflation and the adverse impact on activity by intensifying the squeeze on household incomes".
In the MPC's February report, published before Russia's invasion of Ukraine, UK GDP growth was expected to slow to subdued rates during the course of this year. CPI inflation was expected to peak at around 7.25% in April 2022 and upward pressures on inflation were expected to dissipate over time.
However, the MPC says that the invasion of Ukraine by Russia has led to further large increases in energy and other commodity prices including food prices. It is also likely to exacerbate global supply chain disruptions, and has increased the uncertainty around the economic outlook significantly.
Inflation is now expected to increase further in coming months, to around 8% in 2022 Q2, and perhaps even higher later this year.
The Committee added that if sustained, the latest rise in energy prices means that Ofgem's utility price caps could again be "substantially higher" when they are reset in October 2022. This could temporarily push CPI inflation above the level projected for April, which was previously expected to be the peak.
Given the current tightness of the labour market, continuing signs of robust domestic cost and price pressures, and the risk that those pressures will persist, the Committee judged that an increase in Bank Rate of 0.25 percentage points was warranted at its latest meeting.
Based on its current assessment of the economic situation, the Committee judges that "some further modest tightening" in monetary policy may be appropriate in the coming months, but admitted there are risks on both sides of that judgement depending on how medium-term prospects for inflation evolve.
Jeremy Leaf, north London estate agent and former RICS chairman, commented: "The rise in interest rates is not unexpected bearing in mind it is one of the few tools the Committee has in its box for addressing inflation.
"However, the increase is likely to be lower than it may have originally preferred as it is likely to be keeping an eye on the impact on the economy bearing in mind events in Ukraine and the consequences for energy prices.
"The housing market has been a little quieter this year in response to recent events and is unlikely to be unduly compromised by the interest rate change considering only around a third of homes rely on mortgage funding, while many others are on fixed-rate deals.
"Inflation rising to 7 per cent and the prospect of further interest rate increases will bear more heavily on confidence to take on additional debt and will help keep prices in check after their significant uplift last year."
Mark Harris, chief executive of mortgage broker SPF Private Clients, added: "The markets have already priced in a base rate rise, with an upward pricing trend across the board and the days of sub-1 per cent fixes long gone. The Bank of England has to carefully balance the need to control inflation with the wider economic challenges posed by rising interest rates.
"For every £100,000 on a variable-rate mortgage, a quarter point rate rise adds £250 a year.
"The purchase market is still active although the froth has gone. Activity in the remortgage market is picking up and is set to continue as borrowers look to secure rates before there are further increases. Rates can be booked up to six months before they are required and we are getting a lot of interest from motivated borrowers in doing this.
"Even with this latest rate rise, we remain in an extremely low interest rate cycle and expect that to be the case indefinitely."