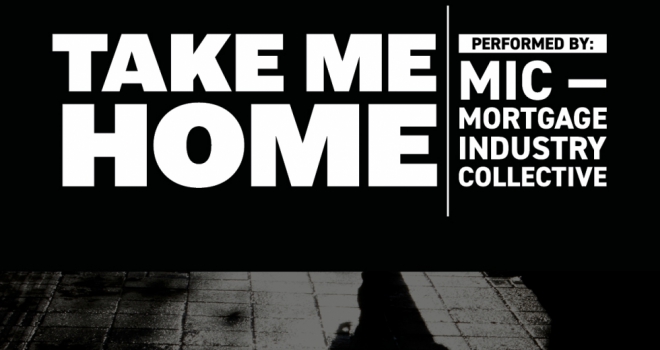 "Go and download the song, it's for a great cause and very topical at the moment. Happy Christmas to you all and let's help those less fortunate by getting 10,000 downloads!"
Take Me Home was recorded earlier this month by the Mortgage Industry Collective, organised by Landbay's Paul Brett and Coreco's Andrew Montlake and featuring Kit Thompson (Brightstar), Howard Levy (SPF), Amanda Fenner (HSBC) and Andy Rowe (Computershare).
The song is about life on the streets in the UK, a reality for a growing number of young people. Proceeds from the song will go to End Youth Homelessness, the same charity that Mortgage Sleep Out raised money for last month.
The song was recorded at a Band Aid style event at producer Benny Di Massa's famous Powerstudio in London.
The project has also had assistance from musical director Jenny Deacon, a local choir and many different people across the mortgage industry who have all donated their time and their talent to the project.
The song is available at Amazon, Spotify and Google Play Store.
Andrew Montlake said: "This whole journey has been simply amazing, challenging, emotional and uplifting. We can't say thank you enough for all the good feeling and support, from our brilliant bandmates, everyone who took time out to appear on the song, the Sweet Charity Choir and to the amazing Benny D who lived up to his legendary status and then some. He taught us all so much, believed in us and what we were doing and helped all the singers deliver their very best performance.
"Lots of people talk about doing something like this and we are lucky enough to have been able to produce something like Take Me Home, which means so much to everyone involved.
"It's now our turn to remember why we did this and make sure we support those who need our help, for whom sleeping out every night is not a choice. Please let's donate as much as we can to support this song, to keep awareness of the issues in the public and political eyes, and, in conjunction with the Mortgage Sleep Out and some of the other amazing initiatives, to help try to End Youth Homelessness."
Paul Brett added: "Andrew and I have known each other for many years as industry colleagues. I can't remember how we got onto the conversation, but he mentioned that he loved writing song lyrics to which I replied, I don't, but love writing the music. From then on, we had a dream to write a song that could be performed by industry musicians and singers and might even be released, with proceeds going to charity.
"That dream has now become a reality, thanks to the financial support of industry firms. Singers travelled from far and wide on a Saturday to be at Power Studio in London, so they could take part. And we had the immense opportunity to by guided by producer Benny D, who is not only a musical genius, he's also one of the funniest guys I've ever met.
"All the singers and musicians were fantastic; however, I must point out a few people who have touched my soul with their brilliance. Firstly, Kit Thompson, who just picked up his guitar, played like a rock god and then thought he could do better! Then there was Amanda Fenner, who took some of the singing to another level. Finally, Jenny Deacon and her Sweet Charity Choir made a huge contribution. We should also say a big thank you to Coreco, Landbay and our families for putting up with the time that Monty and I have dedicated to the project in recent weeks. We probably haven't been easy to live and work with!
"Go and download the song, it's for a great cause and very topical at the moment. Happy Christmas to you all and let's help those less fortunate by getting 10,000 downloads!"