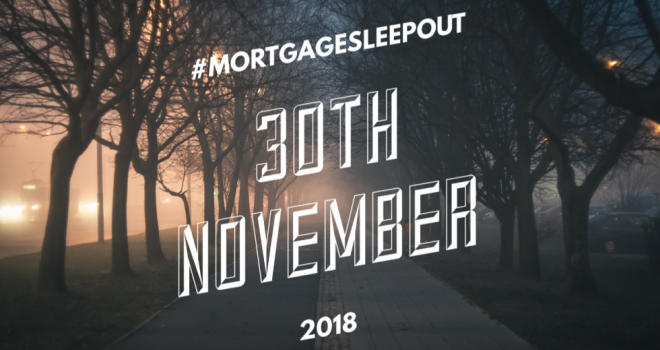 " The generosity of our industry means that thousands of young people in desperate situations will have the support they need to get back on their feet."
The milestone was reached at 7.12pm on 3rd December thanks to an anonymous donation of £1,500.
On Friday 30th November more than 1,000 people from more than 70 businesses spent the night sleeping on the streets to raise money for Mortgage Sleep Out at over 35 events across the country.
The movement started less than four months ago on 7th August, when Rob Jupp, CEO at Brightstar Financial, tweeted: "Shocking how many 'rough sleepers' there are in London. I can't remember a time where there have been so many. It's a national outrage!"
Responding to his tweet, Atom Bank's Maria Harris replied: "It's heart breaking. Maybe we should do a financial services sleep out to raise funds and awareness?"
The idea quickly gathered momentum and Mortgage Sleep Out became a reality within a couple of weeks, becoming one of the largest collective initiatives the industry has ever seen.
Donations to Mortgage Sleep Out can still be made at: www.justgiving.com/campaign/mortgagesleepout
Rob Jupp said: "When we first started planning Mortgage Sleep Out, we set our sights high with an extremely ambitious target of £100,000 and I am completely overwhelmed that so many heroes have come together and delivered such a Herculean effort. It means that we are helping EYH to provide over 4,000 days of support for homeless young people across the UK. But we're not done yet. Every extra £25 puts a roof over a young person's head for a day, giving them the healthcare, education and employment they need to turn their lives around.
"The Just Giving page is still open and our musical heroes, Mortgage Industry Collective will be releasing their charity single, Take Me Home, in the next few days. Let's see how much more we can raise to help eradicate homelessness."
Alan Cleary, managing director at Precise Mortgages, commented: "This is a fantastic result for Mortgage Sleep Out. The generosity of our industry means that thousands of young people in desperate situations will have the support they need to get back on their feet."