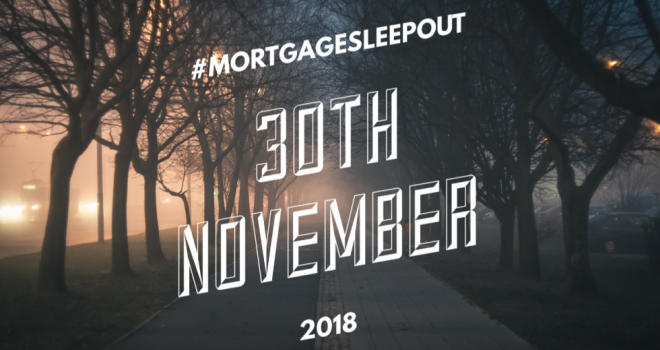 "This is unique opportunity for our industry to work together to highlight the issue of youth homelessness and raise vital funds"
More than 1,000 people have now pledged to spend the night sleeping on the streets on 30 November to raise awareness and funds for the End Youth Homelessness charity.
Each participant will have a different reason for wanting to take part in the event. We spoke to five people who have recently signed up, to find out why this cause is important to them.
Ben Larkin, Director at Firmitas Financial Services: "Looking cold, dazed and confused on a Friday night at 3am is nothing new for most members of our team, but to do it for such an important cause with an opportunity to appreciate, albeit only briefly, the immensely tough experience of sleeping rough night after night."
Mike Potter, Mortgage Lending Director at Paragon: "This is unique opportunity for our industry to work together to highlight the issue of youth homelessness and raise vital funds to try and help break the cycle of homelessness for young people across the country."
Adam Goddard, Senior Partner at Sentry Advice: "We feel very strongly towards the cause and unfortunately see several homeless people on the street of Eastbourne and Brighton near where my business partner and I are from. Staff within our firm are also of this view and will be supporting on the night. In our roles it's easy to feel for the people that struggle to obtain a mortgage but have somewhere to live and forget about the people that struggle to have somewhere to live full stop!"
Poppy Carneiro at The Finance Professional Show: "As a large event that profits off a thriving industry, the FP Show is proud to support the Mortgage Sleep Out. It is vital that while we enjoy a time of success, we take stock of the fact that many are not as fortunate and could do so much with the tiniest fraction of what we represent as a sector. It is our duty to give back wherever and however we can, and this initiative galvanises us to take action."
Maria Harris, Mortgages Director at Atom Bank: "Tackling homelessness in the North-East is a cause that's very close to Atom's heart. Our exec team has taken part in the CEO Sleepout in Newcastle for the last three years, spending a night in sub-zero temperatures with a whole night to contemplate how people do this every day. This brings home exactly how fortunate we are to have a safe home to go back to every evening.
"Many of us are based in Durham but spend a lot of our time travelling to London and other parts of the UK where the level of visible homelessness is heart-breaking. Homelessness on the streets is just the tip of the iceberg and other forms such as sofa surfing and squatting makes the issue bigger than we think. Giving up our beds for one night is a small price to pay to make a big difference."
Mortgage Sleep Out will take place on 30 November 2018, with a series of locally organised events across the UK. Businesses and individuals can register to take part and run their own events or join existing events at www.mortgagesleepout.com.
Participants can also set up their own fundraising page and start raising money by visiting www.justgiving.com/campaign/mortgagesleepout.