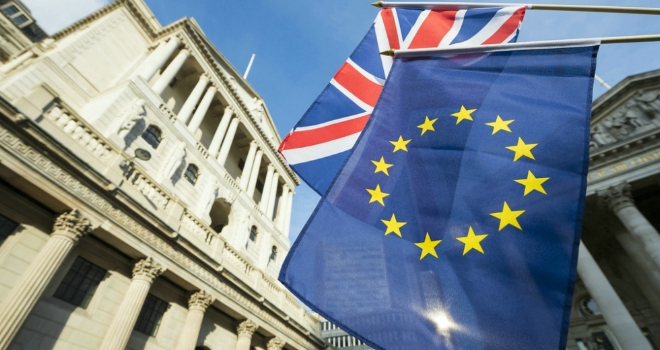 "A deteriorating global growth outlook and mounting Brexit uncertainty have put paid to any thoughts of tighter policy for now."
The Bank of England's Monetary Policy Committee have voted unanimously to keep Bank Rate at 0.75%.
The Committee noted that the economy has continued to slow over recent months, and UK growth in particular "appears to have weakened further in early 2019" due to growing Brexit uncertainties.
The MPC said these uncertainties "could lead to greater-than-usual short-term volatility" and was widely expected to publish a unanimous decision, stating that the economic outlook will "continue to depend significantly on the nature of EU withdrawal".
The Committee has cut near term GDP forecasts, but in its central projection quarterly GDP growth recovers later this year, with four-quarter growth rising to 2% by the end of the forecast period.
CPI inflation fell to 2.1% in December and is expected to decline to slightly below the MPC's 2% target in the near term, largely due to the sharp fall in petrol prices which has occurred since November.
The Committee concluded that the path of monetary policy will depend on how Brexit effects the balance of demand and supply.
Market expectations for the path of Bank Rate have fallen in the Bank's latest Inflation Report. That path now implies a gradual rise in Bank Rate to around 1.1% by Q1 2022, around 25 basis points lower than at the time of the November 2018 Report.
The MPC continued to stress that its response to Brexit "will not be automatic and could be in either direction".
Fran Boait, executive director at Positive Money, commented: "The Bank of England bind continues into 2019, as the central bank wants to raise rates to build up ammunition for future downturns, but is constrained by uncertainty around Brexit and the resilience of the UK economy.
"In today's low rate, low growth environment, the Bank of England cannot continue to rely on interest rates as its main mechanism for influencing demand in the UK economy. With potential economic shocks on the horizon, the Bank will need to consider new tools such as 'helicopter money' or overt monetary financing, which would inject spending power directly into the real economy."
Ben Brettell, senior economist at Hargreaves Lansdown, added: "The Bank of England set a neutral tone today, as it announced an entirely expected unanimous no-chance decision. Nobody thought for a minute that interest rates would change, so any intrigue was always going to come from the accompanying minutes and forecasts. The minutes noted the Bank still sees the need for higher interest rates in the coming years, but its growth forecasts were cut to 1.2% this year (from 1.7%) and to 1.5% next year (1.7%).
"Domestically, a tight labour market means wages are growing at their fastest pace in a decade. This would usually prompt policymakers to consider raising rates, but a deteriorating global growth outlook and mounting Brexit uncertainty have put paid to any thoughts of tighter policy for now.
"We're already seeing a real economic impact from Brexit concerns, with weaker-than-expected January PMI readings released this week, and news today that house prices cooled again last month. This sent sterling to a two week low around $1.29 ahead of today's announcement from the BoE, and it fell a further third of a cent in the immediate aftermath.
"Where we go from here is highly uncertain, to the point that betting markets think there's only a 30% chance we'll actually leave the EU next month. If and when we do leave, an orderly Brexit could see the Bank refocus on wage growth and raise rates later this year, though markets currently price this as a 50/50 chance. A no-deal scenario would likely see sterling fall 5-10%, causing a spike in inflation, but I'd expect the Bank to look through this and cut rates to support the economy."