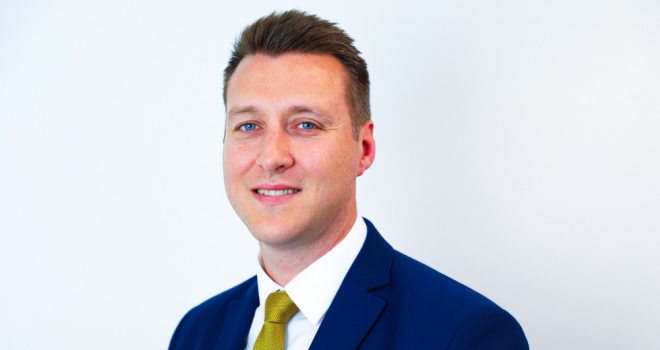 "For those brokers in regular contact with me, they know I'll often respond to them in the evening as it beats having to watch the soaps!"
FR: What area do you cover?
I'm based in the West Midlands and look after broker relationships across the Midlands and East Anglia region.
FR: If you had one 'top tip' for life as a BDM, what would it be?
In my youth I was a really active member of the Scouts and their motto of "Be Prepared" really resonates as a BDM as you never know what the day might present once you're on the road.
So for me this means always having a spare shirt and tie in the car (in case of spillages), taking a hot thermos of coffee in the winter and a cool bag in the summer and having plenty of snacks in case of traffic issues. I cover quite a large area and I don't like having to make stops unnecessarily.
FR: How do you pass the time on the road – radio, podcasts, audio-books, etc?
I mainly use the time to return calls to brokers, touching base with key accounts and updating colleagues but I do love a good podcast!
From a business point of view, it is great to see many mortgage and property podcasts appearing, as I think it's a fantastic way of keeping in touch with the latest competitor and market developments as well as hearing the challenges that clients and brokers are facing.
From a personal point of view, I have a keen interest in most sports, particularly boxing and golf – polar opposites I know! There are some cracking boxing podcasts covering stories about training camps and the build up to fights. It's a real insight into the discipline and science that goes on behind the scenes.
FR: What's one thing you wish all brokers knew?
Help us to help you. As lenders we can help brokers shape a deal but to do the best job for your client, we need to know about every single aspect of the enquiry, including potential issues so we can take a view. My best business relationships are with brokers whom I have met in person to discuss what's important to them as a business and establish what level of support they require from me – this insight really helps me to give a more personalised service.
FR: A quick email on Monday or a phone call in the afternoons - how can brokers contact you?
It really does vary week to week depending on travel, events, site visits and meetings. The easiest way is to drop me an email with the action needed in the subject box eg: new enquiry, chase up a decision, BDM visit required, etc.
For those brokers in regular contact with me, they know I'll often respond to them in the evening as it beats having to watch the soaps!
FR: And lastly - what's your favourite place to stop for a coffee when you're between meetings?
Well I tend to be pretty well topped up on coffee at most places I visit, but if time permits I am partial to a supermarket 'build your own salad box', which sounds a lot healthier than it actually is after I have squeezed on my favourite dressings, added croutons and bacon bits!