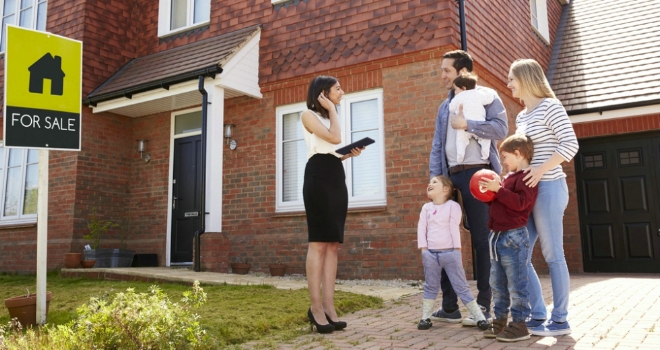 Opening on 19 April 2021, the scheme offers lenders the option to purchase a guarantee on mortgage loans where the borrower has a deposit of less than 10% and can be used for mortgages on both new build and existing homes. While open to first time buyers, home movers and those remortgaging, the option for lower deposits has proven attractive to FTBs, who make up the majority of its users so far.
However, just 812 mortgages have been completed through the scheme so far - perhaps reflecting the time needed for lenders to bring out corresponding products and the time taken to complete the deal.
The majority of mortgage completions through the scheme were on terraced houses, making up 30% of total completions. 25% of completions in the scheme were on flats or maisonettes, while completions for detached houses and bungalows were much lower, making up 12% and 3% of the total respectively.
The median household income for borrowers using the mortgage guarantee scheme was £41,524 and the mean household income for borrowers using the 2021 mortgage guarantee scheme was £47,465.
Karen Noye, mortgage expert at Quilter, commented on the figures:
"First time buyers have had a rough ride over the past year with the stamp duty holiday, race for space and cheap mortgage deals all creating the perfect conditions for house prices to run riot. The 95% mortgage scheme was created to give those struggling to save for a deposit a lifeline to get on the housing ladder. Nationwide statistics yesterday showed there had been a 10% increase in house prices in just a year, which is more than enough to put getting your first toe on the housing ladder just out of reach.
"The new statistics today show that over 80% of people using the scheme were first time buyers, which is positive. And while just over 800 examples of people using the scheme seems low, the quarterly statistics only cover from April to June with it taking some time for lenders to bring out new products as part of the scheme and then house purchases to complete.
"Naturally, anything that helps generation rent get on the housing ladder should be applauded but there is a very real concern that people using the scheme could end up in negative equity if they bought at the height of the house prices boom and then there is a significant deflation in the current prices.
"If house prices do drop, as is predicted now the stamp duty holiday is completely gone, buyers who have used the guarantee scheme might face an uphill struggle if they want to sell their homes as they will need to cover all the negative equity to redeem the existing mortgage, moving costs and a deposit for the new purchase. So while this scheme is well meaning there could be some serious ramifications if the housing market cools considerably over the next months and years."