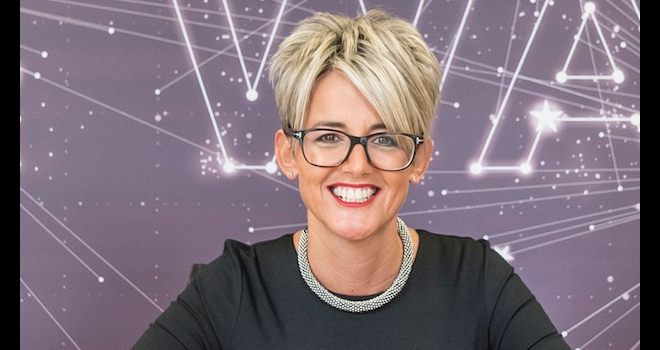 "Having a plan to raise awareness and provide mechanisms for support is crucial."
This week is Mental Health Awareness Week, the UK's national week to raise awareness of mental health and mental health problems, inspiring action to promote the message of good mental health for all.
Given that we all spend so much of our lives at work, and work is the place where many of us can experience both stress and success, the workplace is an important area to focus on mental health.
The financial services sector has the highest percentage of employee absences due to mental ill health, according to research from HR consultancy AdviserPlus.
The research amongst more than a quarter of a million employees shows that since 2013, nearly 34% of absence days in financial services have been due to mental ill health. This compares to 24% of absence days in the retail sector and 22% in utilities.
Sadly, it is the case that many employees are afraid to talk to their manager about their mental health, and many people would be just too embarrassed to tell anyone at work if they felt they were suffering from stress, anxiety or depression, fearing that there could be consequences for being open about their mental health.
As a male dominated sector clearly affected by mental health issues, my other concern is that the biggest killer of men under 45 in the UK is suicide. Indeed, of the 6,000+ British lives lost to suicide each year, nearly 75% of those are male.
As a previous sufferer of anxiety myself, I have first-hand experience of how it feels to be suffering from mental health issues. They create separations within society which compound the feelings of those who suffer as being different and feeling helpless and lonely. Without appropriate help, mental health issues can destroy people's lives. At Brightstar, we are determined to make our staff aware about mental health issues and to offer support if needed. We are also keen to create an environment where our team feel comfortable to say if they are experiencing problems and to destigmatize mental health as a whole.
So, what steps can a business take to help improve mental health in its workplace?
Create an open, non- judgemental and supportive culture
It seems that mental health is still a taboo topic, and so businesses need to work on creating a supportive culture where people have the confidence to talk openly about mental health and signs or symptoms around it.
Create awareness
One way of creating a supportive culture is by raising awareness about the importance of mental health so that employees will be more aware and more able to assess whether they are suffering from mental health conditions. At Brightstar we have poster campaigns and we mark Mental Health Awareness Week on an annual basis.
Encourage a good work/life balance
An improved work/life balance is crucial for good mental health. Work/life balance is strongly influenced by company culture and if team members feel stressed about deadlines and targets, they might feel pressured to work longer hours to get more done, and consequently compromise their life outside of work.
Business leaders need to lead by example and show that output is more important than working long days. Businesses should encourage employees to work as teams and not feel isolated and should help team members to adopt effective working practices through coaching, mentoring and training.
It's also important that businesses help individuals to build esteem and confidence, as well as equipping them with good resources, a strong skillset and a positive working environment.
Introduce a Mental Health Action Plan
Having a plan to raise awareness and provide mechanisms for support is crucial. This has to be well planned, implemented and communicated so that team members know that they cared for and where they can access support and guidance.
Identify a Mental Health First Aider
It is usual to have First Aiders in your organisation, but did you know that you can receive training to become a Mental Health First Aider?
Having someone in this position immediately raises the importance of having good mental health and can provide a named contact who is the first port of call on the journey to receiving professional help.
Training to become a Mental Health First Aider is available from MHFA England and First Aiders are trained to recognise signs and symptoms so that they can point colleagues in the right direction or simply provide them with someone sympathetic and non-judgmental with whom they can talk.
Introduce a Wellbeing Room
The Brightstar team has been given an extra boost by the provision of this dedicated 'chill-out' area.
Our Wellbeing Room is another facet of the support and provision programme that we have implemented and this carefully thought-out relaxation area is available to all team members throughout the working day.
In designing and equipping the Wellbeing Room we took advice from charities Anxiety UK and Mind (Basildon). Representatives from Mind were present at the official opening and have offered ongoing support with providing services and resources to help employees with managing stress at work and recognising mental health issues.
Our Wellbeing Room has been well received by the team and is available for anyone who is unwell, needs relaxation time or just some private time-out. It is multi-sensory, provides various comforts and relaxation aids and is designed with ultimate relaxation and recovery in mind.
Mark Mental Health Awareness Week with activities to encourage good mental health
Throughout this year's Mental Health Awareness Week, Brightstar will be offering a number of activities to help demonstrate the benefits that exercise, good diet and controlling stress can have on mental health. For some people, for example, exercise relieves symptoms of anxiety in ways that medication and talking therapies can't. The Royal College of Psychiatrists says exercise affects certain chemicals in the brain, like dopamine and serotonin, which in turn impacts upon mood and thinking, and some GPs now even prescribe exercise in the same way as medicine. Walking groups have been assembled over the lunch time period and at-desk massages have also been from Sense Massage Therapy. Finally, a nutritious 'Mentally Healthy' breakfast will be served to the team that includes a range of foods containing anti-oxidants, B vitamins, selenium, omega 3 and protein – all of which are known to be stress busters and good for the brain.