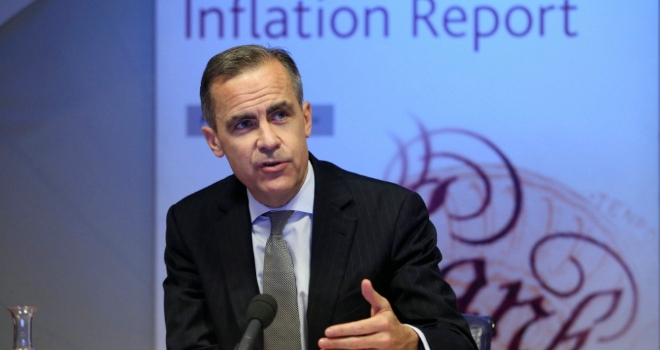 Since the Bank of England's last Inflation Report in August, the path for Bank Rate implied by market rates has fallen by around 40 basis points, such that it only reaches 0.75% in 2017 Q2, compared with 2016 Q3 in August, and is just 1¼ by the end of 2018.
The Bank of England admitted that it now seems more likely than not that inflation will remain below 1% until the second half of 2016, much later than judged likely when inflation first fell below 1% at the start of 2015.
Recent falls in oil and other commodity prices also mean that CPI inflation is likely to remain lower than previously expected until late 2017.
However, the MPC's best collective judgement is that inflation will return to the 2% target in the second half of 2017 and above it in 2018.
UK-weighted world GDP rose at a slightly slower pace in 2015 Q2 than projected in the August Report. The near-term outlook is also weaker than in August, reflecting developments in emerging economies. In part reflecting that weaker outlook, global equity prices are lower and oil prices have fallen by 14% since the August Report. In the United Kingdom, market prices imply a more gradual pace of Bank Rate rises than in August.
Mark Harris, chief executive of mortgage broker SPF Private Clients, said:
"We have been saying for months that the economy is not strong enough to cope with a rate rise and finally the Bank of England has admitted that this is the case.
"Regional interest rates would work much better than a national one-size-fits all. Some parts of the UK, such as London, could cope with an interest rate rise but it wouldn't work elsewhere where growth is far more muted. In some ways the UK is not dissimilar to Europe - powerhouse Germany could deal with higher rates but the southern European countries would really struggle. However, there is only one interest rate in the UK so it can't go up until everyone is ready to deal with it.
"This announcement from the Bank of England, combined with an oversupply in the mortgage market, means the continued downwards pressure on mortgage rates will continue. We already have seen some exceptional mortgage deals in recent months, and we are likely to do so again."
Darren Ruane, Head of Fixed Income at Investec Wealth & Investment, added:
"Today's Bank of England interest rate announcement was more dovish than markets were expecting. Indeed there was some speculation that Ian MacCafferty would be joined by at least one further dissenter, but this did not occur and the inflation profile has been reduced. However a signal has been provided that the market's expectations for future rate rises are too far away. The MPC forecast that inflation should hit 2.1% in two years based on current interest rate forecasts while CPI inflation is likely to remain below 1% until H2 2016."