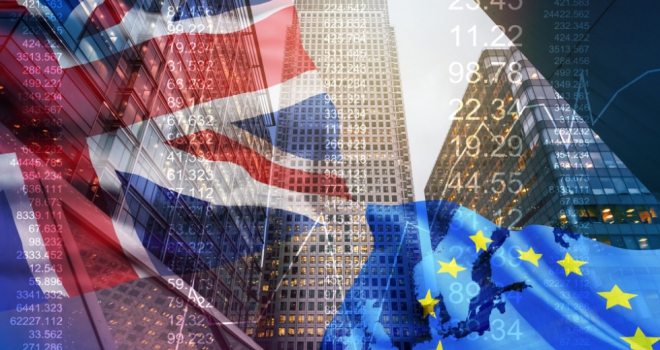 "So far, only a small proportion of the largest, listed firms have put a number on potential costs, which means this number is likely to be a drop in the ocean"
This sum includes £1.3bn of relocation costs, legal advice and contingency provisions, plus an additional £2.6bn for capital injections to scale new non-UK headquarters.
The impact of Brexit on the economy has also affected the financial services sector with share price falls, lower profits, dividend cuts, a slowdown in lending, loss of customers and reduced capital market activities all hitting revenues.
EY's Brexit Tracker also found the number of planned jobs (7,000) and assets (£1 trillion) moves remained flat from the last quarter, reflecting that firms paused or slowed down their Brexit preparations once the extension to October was announced.
However the number of companies which have publicly confirmed, or stated their intentions, to move some of their operations and/or staff from the UK to Europe has risen slightly quarter on quarter from 39% to 41%.
Firms are also beginning to provide greater clarity on the jobs which have already moved to Europe. Amongst the large investment banks monitored in the Tracker, nearly 1,000 jobs have already relocated to the continent. However, this figure represents just 15% of the total volume of investment banking staff currently marked for relocation to Europe from the UK.
Of the companies monitored by the Brexit Tracker, Dublin remains the most popular location with 29 companies saying they are considering or have confirmed relocating operations and/or staff to the city. Luxembourg has made the largest gains over the past three months, attracting four more companies to a total of 23, just ahead of Frankfurt which has attracted 22 firms to date.
Omar Ali, UK financial services leader at EY, commented: "So far, only a small proportion of the largest, listed firms have put a number on potential costs, which means this number is likely to be a drop in the ocean as firms prepare to do business post-Brexit. The financial impact of Brexit is beginning to fall to the bottom line, and firms are now making a direct link between financial performance and the tangible commercial impacts of Brexit.
"Capital deployed for supporting new non-UK headquarters is value which is not being returned to shareholders or reinvested in UK businesses. Over time some of this capital may flow back to the UK, but currently is a net loss for our economy.
"The past three months have seen most firms to some extent pause their Brexit planning with both planned jobs and assets moves remaining flat. However, in the last few weeks we have seen some firms restarting their programmes and we expect preparation activity for a no-deal to increase markedly throughout the summer.
"Given the tight timeframes and many unknowns, lots of financial services firms have prepared for a "no deal" scenario with temporary contingency plans, which are often inefficient and costly. A more sustainable approach will need to follow once the long-term level of UK/EU market access becomes clearer.
"In the event of a "no deal", some of the optimisation needed will no doubt move higher up the agenda. Overnight, UK firms would lose their ability to passport services and branches into the EU. Neither would they have any EU equivalence determinations to fall back on, putting them at an immediate disadvantage to other third countries, such as the US, Singapore and Hong Kong.
"The timescales around moving on from a "no deal" also look challenging. Along with possible political fallout, the EU's mechanisms for coming to new trading arrangements are complex, requiring unanimity and individual approvals from certain members states' parliaments. All of this suggests further significant restructuring for firms in the aftermath of a no deal exit."