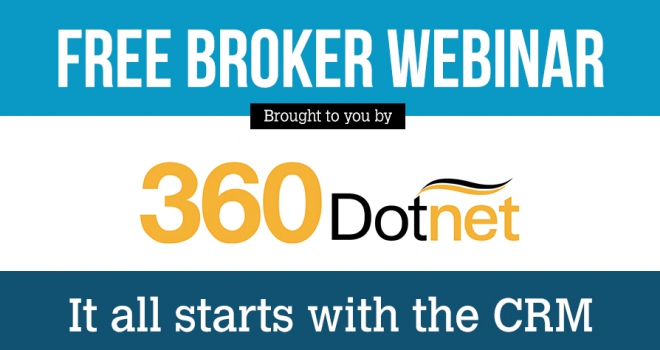 Intermediaries can take part in a free webinar this week, as Financial Reporter comes together with 360 Dotnet to host their webinar, 'It all starts with the CRM' at 11:00am on Friday 12th October.
Join us for an online demonstration of how 360 captures data from the first initial point of contact and utilises it throughout the mortgage advice process. Dhaneer Popat, account manager, will demonstrate 'how data is seamlessly passed from the CRM with no unnecessary rekeying of data, how the CRM captures data and documentation from client engagement features and how new features and integrations will continue to make your CRM the heart of your business'.
In this session you will:
• See how it all starts with the CRM
• See how the client FactFind and portal engages the client early in the process
• Identify how integrated systems eliminate unnecessary rekeying of data
To register for this free webinar, please click here and sign up.
Mark Dryden, business development manager at 360 Dotnet, said:
"Technology is fast becoming the differentiator within an evolving and complex intermediary market. This is technology that structures processes and management through the back office system, this is technology that engages the client into the process through a client facing FactFind and Portal, and this is technology that is reducing the unnecessary friction of the mortgage process."