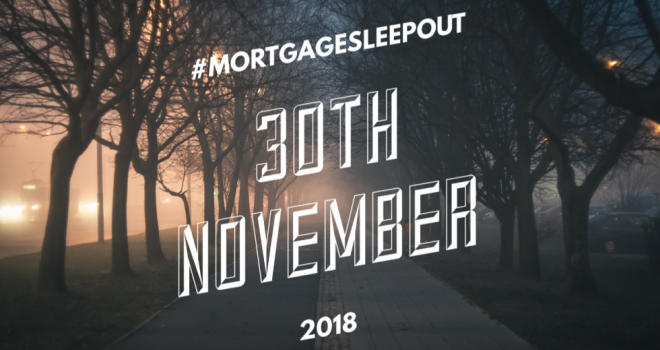 "We urge everyone who has signed up to ask their friends and family to dig deep and sponsor them for spending a night outside in the cold for this important cause."
Over 1,000 people within the mortgage industry have now pledged to spend a night on the streets to raise funds and awareness of homelessness in the UK, with over 70 businesses signed up to take part in events across the country.
Mortgage Sleep Out will take place on Friday 30 November 2018, with a series of locally organised #MortgageSleepOut events across the UK to raise money for charity partner End Youth Homelessness.
Mortgage Sleep Out is hoping to raise £100,000 which would provide more than 4,000 days of support for homeless young people across the UK.
If you would like to be part of the industry movement to eradicate homelessness, you can register now and receive your guide on how to arrange a Sleep Out at www.mortgagesleepout.com or donate to the main Just Giving page at www.justgiving.com/campaign/mortgagesleepout.
Attendees of The Finance Professional Show next week will also have the chance to show their support at fundraising stations around the event and anyone donating at least £5 will be entered into a raffle to win a Gen 2 Echo Show, donated by Twenty7Tec.
James Tucker, CEO at Twenty7Tec, said: "Mortgage Sleep Out is a fantastic opportunity for the industry to come together and get behind an excellent cause and we're very happy to be providing three prizes to support fundraising at The Finance Professional Show. Hopefully it will encourage more people to get involved and help raise money for Mortgage Sleep Out and its charity partner, End Youth Homelessness."
Buster Tolfree, commercial director for specialist mortgages at United Trust Bank, commented: "Often it is easy to forget those less fortunate, who have far less than the quality of life we enjoy every day. If by giving one night of my time to help promote a very real issue that exists UK-wide, then that's not really a choice at all – it's just the right thing to do."
William Lloyd, director of operations at Brightstar, added: "People from all over the country are now taking part in Mortgage Sleep Out and it is a real boost to our charity partner End Youth Homelessness to have over 1,000 people taking part. We urge everyone who has signed up to ask their friends and family to dig deep and sponsor them for spending a night outside in the cold for this important cause."