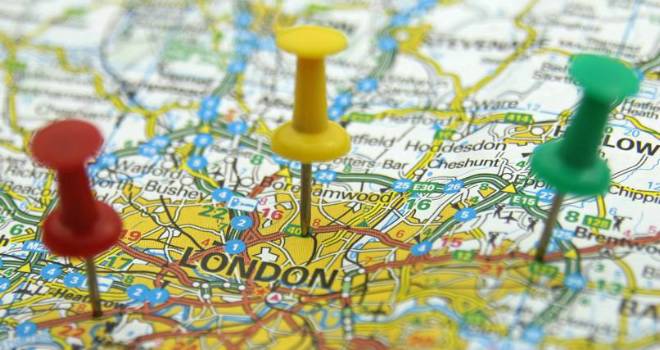 "In London, where affordability is most stretched, house price growth has slowed rapidly in the last year on weaker demand and growing uncertainty."
London city house price inflation fell to 3.3% in May 2017 - its lowest for five years and down from 14% a year ago - but lower turnover and restricted supply means that the "rapid deceleration" could have 'bottomed out', according to Hometrack.
Hometrack says that year-on-year price falls are not expected in London for 2017, instead plateauing at between 2-3%.

Overall house price growth is running at 5.1% per annum, down from 8.8% in May 2016. However despite the snap General Election, average prices have increased by 3.5% over the past three months - the highest quarterly rate of growth across the 20 city index for four years.
This increase has been driven by above average growth in large regional cities such as Birmingham (3.8%), Nottingham (3.8%), Newcastle (3.5%) and Manchester (3.3%). Here house prices are rising off a lower base and supported by a lack of housing for sale. Apart from Oxford and Aberdeen, where prices have fallen in the last quarter by -0.6% and -0.9% respectively, all cities listed in the Index have registered higher growth in the last three months.
Birmingham (7.7%) and Manchester (6.8%) are the fastest growing cities and are now firmly established as the regions for national house price growth. Both cities have delivered a sustained and consistent level of house price growth in the last year and show little signs of slowing.

Over the remainder of 2017, Hometrack expects further house price growth in most major regional cities outside of London and the South East, including Birmingham and Manchester. Since 2009 house prices in London and Cambridge have increased by 85% while in Glasgow they've risen by just 12%.
Richard Donnell, Research and Insight Director at Hometrack, said: "Our latest report identifies two contrasting trends. First there is clear potential for additional house price growth in cities outside south eastern England. House prices in London have grown 90% since 2009 but growth in ten cities has been below 30% over the same period. So long as the economy continues to grow, and mortgage rates remain low, we expect house prices to keep rising at a steady rate and close the gap to London.

"In London, where affordability is most stretched, house price growth has slowed rapidly in the last year on weaker demand and growing uncertainty. The annual rate of house price growth in London has bottomed out for now as turnover falls and supply tightens. We don't expect year on year falls in our London index in 2017 but there are small price falls in localised markets, typically those with average prices of between £600,000 and £800,000. Given the uncertainty over the Brexit negotiations and the impact on the economy we believe that house prices will need to adjust further over the next 1-3 years to align with what demand is prepared to pay."