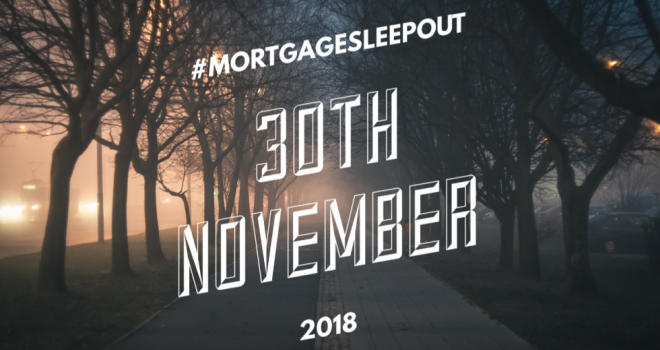 "We are incredibly grateful that so many in the mortgage industry have decided to help end youth homelessness. We can do this!"
The Manchester Sleep Out will take place at the Assetz Capital office in South West Manchester and will include participants from Sirius Manchester, NatWest Commercial, Roma Finance, Easier Finances and Assetz Capital.
An open London event has been confirmed at a venue in Enfield. Both events are open to new participants who have yet to arrange their own event.
For more details and register to part in the Manchester event, please contact Adele Turton, director at Sirius Property Finance on [email protected]
Anyone wishing to take part in the London event can contact Laura Hammond, director at Also Communications, on [email protected]
Mortgage professionals from Ipswich-based firm Link Mortgage Services will also be taking part in one of 100 regional events next Friday to raise money for the charity End Youth Homelessness.
If you would like to be part of the industry movement to eradicate homelessness, you can register now and receive your guide on how to arrange a Sleep Out at www.mortgagesleepout.com or donate to the main Just Giving page at www.justgiving.com/campaign/mortgagesleepout.
Adele Turton said: "Homelessness is on the rise every year and this is a great cause, which I'm very proud to be part of it. We agreed to organising a Sleep Out in August and now 'winter is coming', it really brings it home just how difficult homelessness must be.
"There are industry Sleep Outs all over the country, including our colleagues at Sirius London and Brightstar Billericay. In Manchester, Sirius has joined a team of other Manchester based lenders and brokers. We are spending the night at Assetz Capital's HQ in South West Manchester. If anyone would like to join us, please get in touch with myself or Damien Druce from Assetz Capital."
Damien Druce, director at Assetz Capital, commented: "Supporting this noble cause is a no brainer given the plight of homeless people in our country's towns and cities, and its year-on-year rise. What better time of the year to do this; when the suffering of the homeless is compounded by shorter days and much colder weather often with unpredictable extremities. To add to this, whilst rough sleepers are seeking out safe places to stay, those more fortunate are Christmas shopping or out revelling with colleagues.
"The mortgage industry can be fiercely competitive at times, but that competition never gets in the way of pulling together in support of good causes and this is the reason why I, along with our Co-Founder and CEO Stuart Law, will be joined by colleagues and peers from across Manchester to bolster our support in raising further awareness and funds for the homeless."
Scott Marshall, managing director at Roma Finance, added: "Roma Finance is delighted to support The Manchester Mortgage Sleep Out. Homelessness and rough sleeping are a tragedy at any time of the year, but the timing of this event couldn't be any more important with the onset of winter. We wish Mortgage Sleep Out every success and hope it raises enough money to end the plight for so many unfortunate people."
Ally Kassam, director at Easier Finances, said: "When I saw this initiative in the trade press, there was no pause - I signed up straight away. Spending my days helping people buy their home, then seeing homelessness on the streets has always sat uneasily with me.
"I have always supported local homeless charities, but this seemed to be the perfect opportunity to truly experience what people have to go through daily, to help to raise awareness and funds to try to make a difference."
Mark Davies, managing director of mortgage services at Link Asset Services, said: "Homelessness isn't just a London or city issue, but just as prevelant in local communities such as Ipswich. It's a huge issue we must tackle, particularly for young people, and Mortgage Sleep Out is a fantastic opportunity for the industry to come together and get behind an excellent cause. Hopefully the event will raise awareness of a really difficult issue and encourage more people to get involved. By helping to raise money for Mortgage Sleep Out and its charity partner, End Youth Homelessness, we can help give much needed support to young people struggling with homelessness and rough sleeping."
Nick Connolly, Managing Director of End Youth Homelessness, concluded: "The Mortgage Sleep Out is a brilliant idea. It recognises that youth homelessness can end. If we all do our bit and give homeless young people meaningful opportunities, they can overcome their dire circumstances and stand on their own two feet. We are incredibly grateful that so many in the mortgage industry have decided to help end youth homelessness. We can do this!"