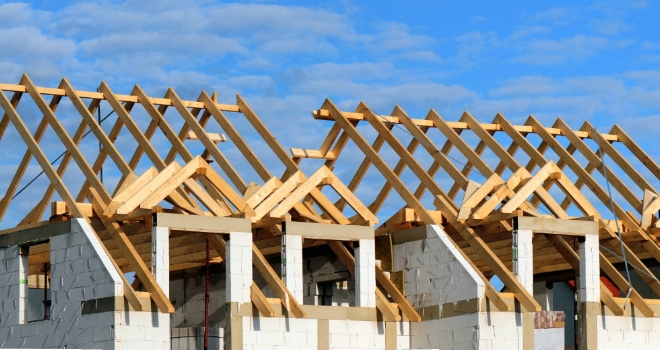 "Help to Build is going to significantly boost the custom build sector, and property developers already have land earmarked for this purpose."
Help to Build works in a similar way to the Help to Buy Equity Loan Scheme, due to end in March 2023, but is for self and custom builders.
Under the scheme, the maximum land and build costs can be up to £600,000 and borrowers will need just a 5% deposit. The other 95% is via a Help to Build Mortgage, which can only be provided by lenders approved by Homes England, which runs the scheme.
The new products have been created by BuildLoan in partnership with Darlington Building Society. There are two products in Darlington's Help to Build mortgage range, both three-year discounted rates at either 5.39% or 5.99%.
During the build borrowers pay on an interest-only basis, so monthly payments are lower. Once the build is complete, the Help to Build Mortgage switches to a standard repayment mortgage which must be in place for the duration of the equity loan.
Like many of BuildLoan's products, the Help to Build Mortgage offers advance stage payments which means borrowers receive funds before each stage of their project. They will also benefit from stage payments being linked to the project costs with no risk of receiving less than expected due to an interim valuation.
Self and custom builders have three years to build their home, after which the Help to Build Equity Loan is paid by the government to the lender. This can be up to 20% of land and build costs outside London and up to 40% within London. The equity loan therefore reduces the mortgage balance owed to the lender.
Payments on the equity loan are also interest-only but are free for the first five years. After that interest is charged starting at 1.75% in year six increasing in April each year by the rate paid the year before and 2% plus CPI.
Borrowers can pay back the equity loan at any time after the build is finished but it must be repaid by the end of the mortgage term or when the home is sold. The amount repayable is based on the property's value at the time the equity loan is redeemed, not the amount that was initially borrowed.
Raymond Connor, CEO of BuildLoan, commented: "I have waited a long time to see this scheme come to fruition and it will create a whole swathe of new build housing opportunities. People can build, or have built for them to their specification, the types of home they want to live in.
"Help to Build is going to significantly boost the custom build sector, and property developers already have land earmarked for this purpose. Homes England has built up a large database of people registering their interest and our own database consists of approaching near to 1,000 people who want to use the scheme."
"We have worked extremely hard to develop the Help to Build Mortgage and more lenders will be launching their products over the next six months in partnership with us."
Andrew Craddock, Darlington Building Society's chief executive, said: "This is an exciting time to be a self and custom build lender and we are thrilled to be the first to launch our Help to Build Mortgage with BuildLoan. Help to Build opens up the housing market and enables more people to design and build their dream home, starting with a 5% deposit."