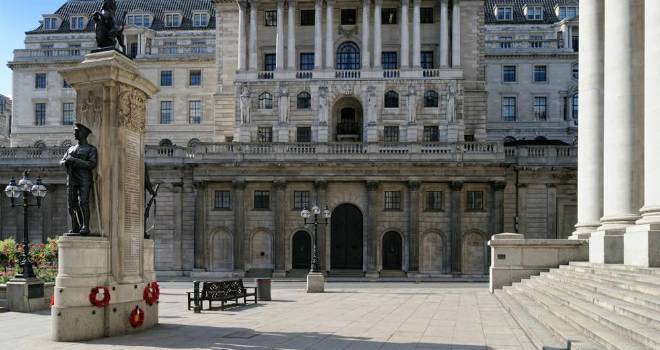 "Unless you have recently opted for a long fixed rate deal then it is likely you're going to need to face the music sooner rather than later when your current deal comes to an end."
We asked experts in the industry how the decision will affect borrowers on both fixed and variable mortgage rates in the months to come.
Karen Noye, mortgage expert at Quilter: "The rumour mill has rightly predicted that today the Bank of England has made its biggest rate rise for 27 years, increasing the base rate to 1.75% increasing by 0.5%,. This will only spell bad news for anyone with a mortgage.
"Up until this point, the increase in interest rates would have meant a relatively small rise in mortgage bills but this hike will certainly start to hit people's budgets at a time when funds are already stretched due to the cost-of-living crisis.
"Those on fixed rate deals might still be feeling protected by their deal. However, unless you have recently opted for a long fixed rate deal then it is likely you're going to need to face the music sooner rather than later when your current deal comes to an end. In the next year, there will be thousands of borrowers forced to walk out into a completely different interest rate environment and secure a new deal. This means there will be a slew of new borrowers suddenly having to partake in the misery that those struggling with tracker or standard rate mortgages are already bearing.
"For context, someone who took out a mortgage worth £250,000 over 25 years at around 1% would pay roughly £942 per month. After today's rise to 1.75%, someone borrowing the same amount but at 1.75% would pay £1,029 per month. What's more is that if interest rates continue to climb to 2.5%, monthly payments would soar to £1,121, a nearly £180 difference. This kind of pressure would certainly force someone to have to live their life differently to meet the new costs."
Andy Sommerville, director at Search Acumen: "Across the residential sector, interest rates rises are likely to increase workloads for property lawyers as transacting parties seek to push for quick resolutions out of fear that today's increase won't be the last, as the cost of borrowing continues to increase at pace. Many homebuyers stuck in the transaction logjam face a ticking clock to complete before their mortgage offer expires, as we wave goodbye to our historic era of low rates for good.
"This will increase an already monumental workload for conveyancers, putting pressure on our cumbersome property transaction process which reached a record 153 days in June, compared with 124 days pre-pandemic. Our transaction backlog is reflective of an archaic property purchasing system that is simply no longer fit for purpose, hastily exposed by the effects of lockdown. Rapidly increasing fall-throughs indicate a pressure-cooker moment for the market. Conveyancers need to lock in and understand short term market pressures whilst adopting greater efficiencies through digitalisation to be able to cope with sustained market activity.
"We are in a period of history defined by the greatest change in spatial needs for a generation. All of these characteristics create a property market that remains underpinned by demand and likely to remain highly active for the foreseeable future, outside of the usual seasonal, or portfolio management cycles."
Anna Clare Harper, director of real estate technology platform IMMO: "Higher interest rates most significantly impact those borrowers on variable-rate mortgages. Those who have chosen flexibility over a fixed commitment – estimated to be circa 850,000 mortgage borrowers, according to UK Finance – will see their costs increase. Similarly, the 1.1 million borrowers on standard variable rates will see costs increase.
"It's likely that as a knock-on effect, these property owners will become more willing to sell, and at lower prices, boosting liquidity and supply in the housing market.
"This is, however, expected to be a relatively short-term move, creating a temporary shift in negotiating power from sellers to buyers for the next 18 to 24 months rather than forever.
"As ever, cash buyers will have the upper hand but they will also now have a higher cost of holding cash."
Mark Harris, chief executive of mortgage broker SPF Private Clients: "Mortgage rates were always likely to increase again at this meeting but we are close to the end of rate rises.
"If you look at Swap rates, then three, five and ten-year money is all lower than two-year money, suggesting the market feels rates will peak and start to come back down.
"That said, there is still value in fixed-rate mortgages and borrowers who need budgeting certainty should always fix. However, base-rate trackers are showing lower initial pay-rates and for those who can afford to be wrong - that is, if rates rise, they can still afford their mortgage - they are beginning to look a better option.
"Lenders repricing upwards is not always entirely a response to a change in the cost of funds but a defensive mechanism to preserve service levels. If banks feel they are being inundated with business and might struggle to cope, they may edge rates up slightly to make them less attractive to borrowers."
Scott Taylor-Barr of Shropshire-based broker, Carl Summers Financial Services: "With rates rising yet again, the sensible response may seem to be to lock into a fixed rate for as long as you can, but it's probably not the right one. At the moment, fixed rates are carrying a far larger premium over variable rates than we have seen for quite a while. For example, why is fixing at 3.59% a good idea if you can have a discounted variable rate at 1.85%? That's a 1.74% premium to have the security of a fixed rate. You need quite a few rate rises before the variable rate even matches the fixed rate, let alone surpasses it. And be especially careful if you are thinking of jumping out of a currently really low fixed rate and paying a penalty to do so, to lock into a new rate now. What if the current upwards interest rate cycle is not sustained and fixed rates begin to fall back in 2023? You'll have lost out on the remainder of your really low rate deal, paid a penalty to your old lender and now be locked into a more expensive rate."
Sarah Pennells, consumer finance specialist at Royal London: "Today's half-point hike in interest rates from 1.25% to 1.75% will be dismal news for borrowers already digesting successive rises this year. While the Bank of England raises interest rates ever higher in an attempt to reduce inflation, which reached a 40-year high of 9.4% in June, people with variable rate mortgages face higher payments, weeks ahead of the energy price cap rise on October 1st.
"A half per cent rise in mortgage rates will cost someone with a £200,000 25-year repayment mortgage over £50 extra a month. And of course the rise of other costs mean people's pockets will be being hit hard – but a year ago the base rate was just 0.1%, so borrowers with a £200,000 mortgage are now paying approximately £180 extra a month. That's on top of higher food and fuel prices.
"Savers, on the other hand will be encouraged that savings rates, if passed on fully, will see rates come out of the doldrums. Banks and building societies don't necessarily raise interest rates on all their savings products and may not increase them by the same amount, so it's worth waiting a few weeks before checking comparison websites and best-buy tables to see if you can get a better interest rate."
Frances McDonald, research analyst Savills: "Today's increase was not unexpected and will have been factored into many buying decisions, though successive rate rises are undoubtedly contributing to slowing house price growth. Rates are in line with our forecast assumptions for 2022, with the expectation that annual price growth will slow to 7.5% by the end of the year, down from its current 11.0%.
"The five base rate rises we have already seen over the last six months have caused a significant increase in the cost of mortgage debt. For someone borrowing a 75% mortgage, the average quoted two-year fixed rate more than doubled over the year, from 1.39% in June 2021 to 2.88% in June 2022.
"Although these rate rises will have the greatest impact on new entrants to the market and those on variable or tracker mortgages, they will also affect those wanting to trade up the housing ladder, particularly given the strong price growth we've seen of late, unless we see lenders absorbing some of the increases.
"Changes to mortgage affordability criteria which came into effect on Monday should create greater capacity for house price growth in the medium term. But the squeeze on household finances, both from general inflation and increased costs of debt, are likely to dictate levels of price growth this year and next, and further constrain affordability for those reliant on high levels of borrowing to access the market.
"Over the next five years we are forecasting average UK house prices to increase by +17.4%."