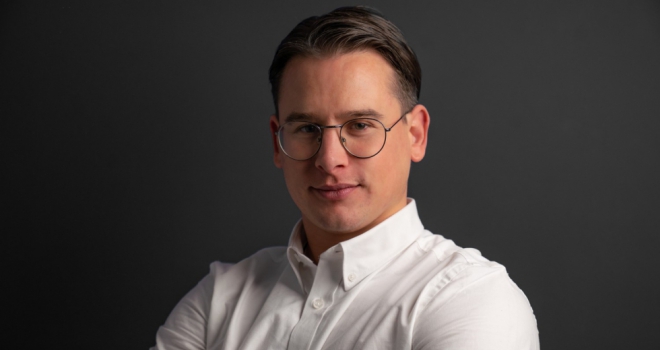 "I believe we will continue to see more development deals, quirky ones too. In this industry, understanding the property as security and what it can become is vital."
FR: How do you describe your role in B&W?
I feel compelled to use some sort of sporting analogy for this question. I've considered scrum half, central midfielder, maybe even the barrelman, if you know your way around a ship? What I have settled on, is the person at the front of a tug of war because I feel it epitomises my role. For all intents and purposes, I am the first point of contact and, in many respects, a big part of that is me protecting those behind me, who all work so hard.
This means, as the relationship manager, it should 9 times out of 10 be me dealing with brokers and keeping them informed – whether that's feedback from our incredible Lending Managers or the human calculator himself, Oli Bland, our Head of Lending.
Naturally, that's where the tug-of-war analogy comes from. Both me and the broker communicating what kind of deal we need, then how and, more importantly, when we want it done.
FR: B&W is a relative newcomer to the bridging space so what makes it different from all of the other offerings out there?
Ambition, the people behind it, and staying power. I am an avid boxing fan and from my law degree I know that a business is a separate legal entity and what makes our business an individual among so many is that Black & White is totally focused on delivering lending solutions that are truly transparent every single day.
Within the business, there's not a single person who does not impress me. Whether that is managing director Martyn Smith with his shrewd, unassuming business nous or commercial director Damien Druce, our very own Mancunian Steve Jobs, because he treats the business as his family and holds us all to the highest standards because of it.
Let's be honest, in this industry we all strive to offer the same thing but ultimately, I believe that Black & White really walks the walk.
FR: What are the skills that are the most important in your new role?
Being personable. As previously mentioned, in many respects I am the external focal point of the business, so it's imperative that the people I interact with enjoy the experience. I guess in 2022, we call them soft skills and I certainly consider myself a big softy at heart.
FR: How do you think you will help improve B&W's development of new business?
I have already started to make an impact in this area. I believe that I will create many more long term broker relationships as well as play a role in further entrenching the ones we already have.
FR: How do you think the market will continue to react and develop in the next 6-12 months?
I believe we will continue to see more development deals, quirky ones too. In this industry, understanding the property as security and what it can become is vital. Lenders like us that can look past today's dusty old barn and understand the desirability of these kinds of properties – where there may not be many to compare to – are the ones that will end 2022 with the most success. I'm lucky to have a team that understand rural locations and can make strong lending decisions based on this experience.
FR: What does your proposition offer to intermediaries and what should they know about working with you?
What don't we offer? We like to get things done fast and right first time, whilst providing a straightforward and honest service. I am just trying to think of how many clichés I can fit into one paragraph here, but I have these words etched on my mind... Black & White Bridging is the architect of truly transparent lending with no grey areas.
FR: If you could write one headline for the bridging market in 2022, what would it be?
'The bridging market will be a knockout again in 2022'.