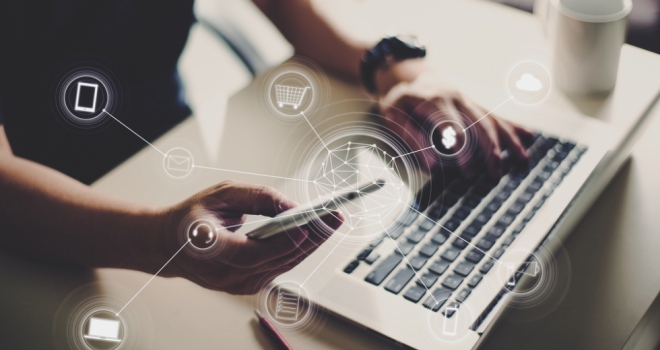 "Develop a contact management strategy, nurture your leads and existing clients with useful information."
She said that consumers are increasingly using digital tools to research their mortgage options – including applying for a Decision in Principle to explore how much they can borrow.
In a seminar titled 'One Click Away: How Consumers Are Using Digital Tools For Mortgage Research', Jodie explored where consumers are looking for information during their research and how the shift towards a digital age will change mortgage lending and advice.
In November 2021, L&G undertook research with over 1,000 consumers who had taken out a mortgage in the last four years, with the vast majority in the last two years. Participants were a mix of first-time buyers (34%), home movers (25%) and remortgagers (41%) and the figures show that 40% used a mortgage broker with the remainder going directly to a lender.
When asked about researching a mortgage, 97% carried out at least some research. 43% researched to find out how much they could borrow, 43% compared different mortgage products, 39% wanted to get an overview of current rates, and 41% wanted to understand whether to fix their rate.
When asked where they got the information, Jodie said there was "no surprise" that online played a huge part. Equal numbers (35%) used a mortgage adviser and an online comparison site, while 31% went to an independent website and 30% visited a financial provider's website.
Consumers spent three weeks on average researching their mortgage, with three quarters saying it was easy to find the information they wanted. First-time buyers, however, found it less easy, feeling overwhelmed by unfamiliar processes and terminology.
Most consumers obtained a decision in principle before application, with two-thirds requesting two or more. However, only 44% used a mortgage broker to obtain their DiP.
In addition, Jodie said that borrowers are using DiPs for the reasons they should be consulting a broker. 32% wanted to find out which provider would lend most, while 35% said they needed proof for an estate agent. 39% said they wanted to check the mortgage provider would lend to them and 55% wanted to estimate how much they could borrow.
The research also found that applying online is becoming the norm for DiPs. 47% requested their DiP online with 72% receiving it within three days. 36% received their DiP by phone, 31% face-to-face in branch, and 19% by email. Online DiPs increased to 54% for consumers who applied direct.
Borrowers are also using other digital tools in their mortgage journey, such as online calculators, tools for signing documents digitally, and portals which allow for the completion of forms and upload of documents.
Digital tools were used by 84% of respondents and 9 out of 10 were satisfied with using them.
Turning to how brokers can leverage technology, Jodie said: "Use a CRM not just to manage your leads and customer data but to offer a more digital experience. Make use of the tools they often offer to manage documents online and keep your clients up to date with progress.
"Develop a contact management strategy, nurture your leads and existing clients with useful information. Use mortgage research tools to deliver that expertise and the right level of information quickly to your clients at enquiry stage."
Jodie added that advisers should make their website a 'one stop shop'. When L&G asked consumers why they chose a broker, 40% said brokers have whole of market, 38% said 'they can quickly tell me what deals/provider are suitable for my circumstances ', and 30% cited choice of the best deals in the market.
She concluded: "You should be able to give [your clients] those regular market communications to reassure them that they don't have to go elsewhere and utilise online tools to find that information. Don't let your customers become one of the 35% that turn to price comparison sites."
For more information about Mortgage Adviser Event and the upcoming Manchester date, visit https://mortgageadviserevent.co.uk.