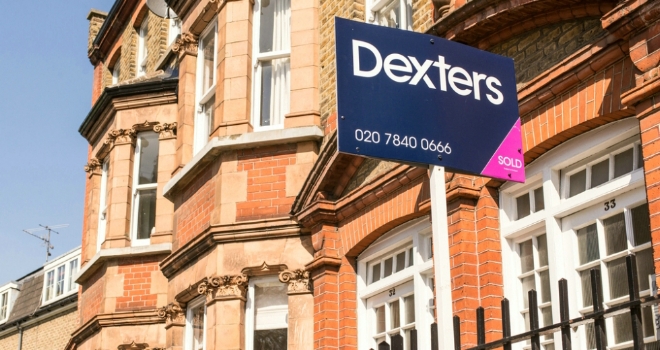 "Although there is a monthly price fall, this is marginal and house prices are still at record levels, running away from buyers."
The annual rate of growth eased to 11.8% from 12.5% in June.
Wales has moved back to the top of the table for annual house price inflation, up by 14.7%, with an average property price of £222,639.
It's closely followed by the South West of England, which also continues to record a strong rate of annual growth, up by 14.3%, with an average property cost of £310,846.
The rate of annual growth in Northern Ireland eased back slightly to 14.0%, with a typical home now costing £187,102.
Scotland too saw a slight slowdown in the rate of annual house price inflation, to 9.6% from 9.9%. A Scottish home now costs an average of £203,677, another record high for the nation.
While London continues to record slower annual house price inflation than the other UK regions, the rate of 7.9% is the highest in almost five years. With an average property now costing £551,777 the capital's already record average house price continues to push higher, up by £40,361 over the last year.
First-time buyer annual inflation dropped noticeably to 10.7% in July, from 12.4% in June, and continues to be outstripped by price rises seen for home-movers (12.0% in July, down from 12.5%).
It remains the case that price gains for bigger houses are noticeably outpacing those for smaller homes. The price of a detached house has leapt by £60,860 (15.1%) over the last year, compared to £11,962 (7.7%) for flats.
Russell Galley, managing director at Halifax, said: "Following a year of exceptionally strong growth, UK house prices fell last month for the first time since June 2021, albeit marginally (-0.1%). This left the average house price at £293,221, down £365 from the previous month's record high. The rate of annual inflation eased slightly (to +11.8%), although it's important to note that house prices remain more than £30,000 higher than this time last year.
"While we shouldn't read too much into any single month, especially as the fall is only fractional, a slowdown in annual house price growth has been expected for some time. Leading indicators of the housing market have recently shown a softening of activity, while rising borrowing costs are adding to the squeeze on household budgets against a backdrop of exceptionally high house price-to-income ratios.
"That said, some of the drivers of the buoyant market we've seen over recent years – such as extra funds saved during the pandemic, fundamental changes in how people use their homes, and investment demand, still remain evident. The extremely short supply of homes for sale is also a significant long-term challenge but serves to underpin high property prices.
"Looking ahead, house prices are likely to come under more pressure as those market tailwinds fade further and the headwinds of rising interest rates and increased living costs take a firmer hold. Therefore a slowing of annual house price inflation still seems the most likely scenario."
Tomer Aboody, director of MT Finance, commented: "With the first price fall in over 12 months, the slowdown which was expected is seemingly coming to fruition. Higher mortgage rates, increasing inflation and higher cost of development is affecting buyer demand. They are still there but at a more conservative level.
"Although there is a monthly price fall, this is marginal and house prices are still at record levels, running away from buyers.
"With fewer sellers and buyers, a continued slowdown is expected. Will the government try to rally the market again with a restructure of stamp duty or other measures, this could be an initiative for any new incoming prime minister?"
Anna Clare Harper, director of real estate technology platform IMMO, said: "House prices fell marginally in July but with annual growth of £31,021, even with a slight cooldown, houses on average made more than the average person at circa £25,000.
"The annual growth figure is more relevant than monthly changes, since housing transactions are slow. The explanation lies in demand: fewer transactions and mortgage approvals indicate that the heat of demand is cooling slightly.
"This slight cooldown will be welcome by those struggling with affordability constraints, since the average house price remains over 10 times average annual individual earnings. The trouble is, we still have an acute shortage of properties for sale and rent which are affordable, in the places people want and need to live, and of good quality.
"New home supply is constrained by planning backlogs from lockdown, labour and material shortages and inflationary pressures, including 20%+ annual construction price inflation, throughout the value chain. Existing homes are needing to be upgraded to align with Minimum Energy Efficiency Requirements before they can be rented out, triggering an exodus of landlords. The result is a lack of affordable housing options.
"This problem gets worse each month that house price growth continues to outpace wage growth. This makes the provision of quality rental housing even more important."
Nicholas Finn, managing director of Garrington Property Finders, added: "The market may finally be showing signs the balance of power has shifted and its rally may be heading for the buffers.
"The property market has remained remarkably unfazed by the cost of living crisis throughout this year but it couldn't last. The Bank of England is effectively telling buyers they can count on a recession next year and this changes everything.
"Until now, first-time buyers have been rushing to get on the property ladder for fear higher rates would sabotage them even if they did have the necessary deposit. Everyone else has been locking in low rates while they can. Lockdown savings, relatively affordable mortgages and low supply have helped underpin prices but they are not insurmountable tailwinds when affordability is at historic lows.
"At some point, buyers come to the conclusion that chasing the market isn't worth it. It's incredibly difficult to predict when that moment comes but, with Andrew Bailey not mincing his words and disposable incomes collapsing thanks to the energy and cost of living crisis, it may well have arrived.
"The end of the year tends to be a time when economic realities come home to roost. It also happens to be when the Governor of the Bank of England predicts the UK could enter recession. Something has to give, and this could be the moment buyers realise they can give a little less.
"Things are slightly different in London. Prices in the capital have put in a more gentle performance over the past two years and it's more a case of 'slow and steady wins the race'. A sharp slowdown is not as likely here as elsewhere with a thirst for larger properties providing a lot of momentum."