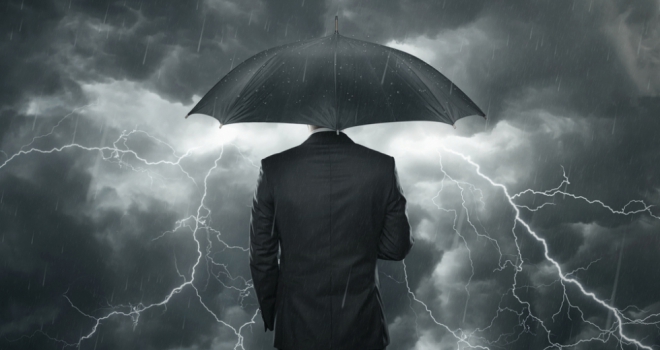 "Encourage clients to maintain their homes, e.g fix little issues as they happen, get their boilers serviced regularly - that way they are far less likely to be let down at the worst time."
James O'Hara, commercial director at home insurance specialists Ceta Insurance, is urging brokers to get in touch with their clients to ensure they have home cover in place and offers his STORM (Stopcock, Temperature, Outside, Review and Maintenance) top tips to help brokers help their clients take steps to mitigate any winter weather damage.
Stopcock - if there is any issue with the water supply to the house, it is vital the water can be switched off to avoid flooding.
O'Hara says: "Worryingly, many people don't know how to turn their water off. Make sure your clients know where the stopcock is and how to turn it off so that they can cut off the water supply if there is a leak, or the pipes burst."
Temperature - homes that get too cold and are then heated up quickly can suffer from damp and if frozen pipes thaw too quickly after freezing, they can burst.
O'Hara says: "Encourage clients to set their heating to come on at regular intervals or use a thermostat so the temperature never falls below a certain level. It is also worth mentioning insulation - well insulated homes are much more energy efficient, while well insulted pipes and water tanks are much less likely to burst."
Outside - leaves and other debris in gutters and drains can cause blockages, especially during heavy rain fall - or if it has been snowing - while unstable fences and garden walls are at risk of falling in heavy winds.
O'Hara says: "Make sure clients are regularly clearing their gutters and drains to ensure there are no blockages as this can cause water damage both inside and out. Also, encourage them to repair or replace any broken or damaged fences or walls as soon as possible as they could cause real damage if they come down in a storm; the insurer may not pay out if the fence was already damaged."
Review - check your clients have the right home insurance in place and know who to call in an emergency.
O'Hara says: "The winter months offer a great opportunity to get in touch with clients to ensure they have a good home insurance policy in place and that they are not in for any nasty surprises. For example, clients with 'non-standard' homes, i.e. they live in a flood risk area, or their home is made from non-standard materials may struggle to get comprehensive cover, or may not realise that their policy has certain exceptions. Also, make sure they know who to call if something happens - most insurers have 24-hour emergency helplines."
Maintenance - prevention is better than cure, so make sure clients are properly maintaining their homes all year round
O'Hara says: "The winter is the time that people generally start to worry about their homes, and start noticing things are not working, or need repairing, but winter can be the worst time to start trying to fix things. Encourage clients to maintain their homes, e.g fix little issues as they happen, get their boilers serviced regularly - that way they are far less likely to be let down at the worst time."
O'Hara concludes: "Our partnerships with specialist third-party insurers mean that more than 90% of non-standard risks can be managed and secured with ease, speed and reassurance. Via our Infinity platform brokers can get quotes in less than two minutes and monitor everything on our live dashboard, while our dedicated, expert support teams are on hand to answer any queries."