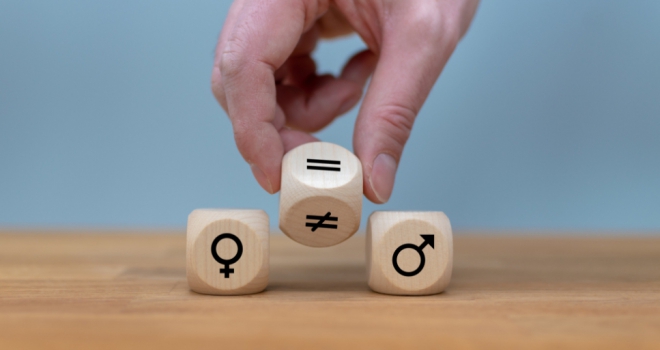 "Whilst we will continue to push for gender parity across our publications, a 50:50 split would mask the actual gender divide in our readers' workplaces."
Three months ago, we began tracking the number of male and female commentators on Financial Reporter in a bid to support gender equality across financial services and ensure equal representation in our reporting.
Around the time we began our campaign to tackle the gender imbalance in financial journalism, we found that women made up around 19% of the experts featured on the site - across our comments, interviews, and feature authors. We're happy to announce that in the past two months, this figure had risen to 28% and 27% respectively. However it's clear that we still have a long way to go to reach a 50:50 split, not least because this isn't the case at senior levels across the industry.
The statistics of women at board level is hard to definitively assess and varies across sectors, but ONS statistics show that in 2017, women made up 43% of the total workforce in financial services, and that this number was much lower at senior levels.
Recent statistics from the 30% Club found that women currently make up 27% of board membership on FTSE 350 companies and 27% at executive committee level at FTSE 100 firms.
However other data shows that this figure is much lower in certain sectors.The FCA found that out of 9,957 partners at private equity firms, hedge funds and other financial services companies only 1,381 (14%) are women.
Based on these statistics, our reporting figures - at around 27% - would seem more positive; an attempt to improve representation in an already under-represented demographic.
However, we found it difficult to keep sustained momentum when we asked PR agencies and in-house teams to provide us with opinions and comments from women, often finding a 'one and done' attitude instead of any ongoing shift in the norm. This isn't a knock on the largely fantastic people in PR teams and agencies we work with every day - some of them took up the mantle enthusiastically, and many (particularly agencies) are struggling with pushback or a lack of women to put forward, meaning there's little they can do to help other than - like us - keep asking.
We also saw that after we began discussing the issue, there was a perception that real change had been made just by discussing the issue - whereas we still found that it was a struggle to gain access to female experts.
Multiple studies have found that men assume women take up much more space than they actually do. One study reported "very inaccurate perceptions" by group discussants; in a group in which almost twice as many men as women had spoken, participants reported that the majority of speakers had been female. This is something we've felt ourselves - feeling, at times, as though we're pushing 'too' hard, or feeling that surely we've addressed the balance and then some, only to find ourselves still far short of a 50/50 split. It can be difficult to properly assess the balance based just on how we feel - and why we think our numbers-based tracking works so well to give a clear, unbiased view of the facts.
Recent research on women in the workplace found that men think women leaders are represented equally, despite only 10% of women actually holding leadership positions. The study found that men are more likely to think the workplace is equitable, but women see a workplace that is less fair and offers less support, with only 39% of females saying their company treats people fairly, compared to 47% of men.
This prioritisation of male voices and viewing actual equality as being female-dominated devalues the work and expertise of women in the industry and deprives them of public recognition. But women's underrepresentation in journalism mirrors the wider problem of inequality in the industry. Whilst we will continue to push for gender parity across our publications, a 50:50 split would mask the actual gender divide in our readers' workplaces. The fact that we continue to struggle in our efforts, despite actively acknowledging the problem, suggests that there needs to be a systematic change in the way women in financial services are perceived and the extent to which firms champion their senior women employees as experts, spokespeople and authority figures.
We recently announced the finalists for our second Financial Reporter Women's Recognition Awards and were encouraged at the level of engagement compared to last year's inaugural event. The number of individual nominations increased by a huge 159% and we also received positive feedback from a number of firms who supported the initiative and how it is helping to increase awareness of the issue.
Martin Stewart, director of the Money Group, said: "From a personal perspective I can say that we could all benefit greatly from having more women in a position of influence across all areas of our industry. I hope these awards continue to be one of many positive steps that we can all take collectively to help ensure a greater balance of equality and diversity is achieved."
His point about collectivity is key: our Awards and gender reporting campaign are helping to champion women and strive for equality, but we look forward to a time when a 50:50 split in financial services will mean that they aren't necessary. For now, the perception of change in the industry is still not matching the reality.