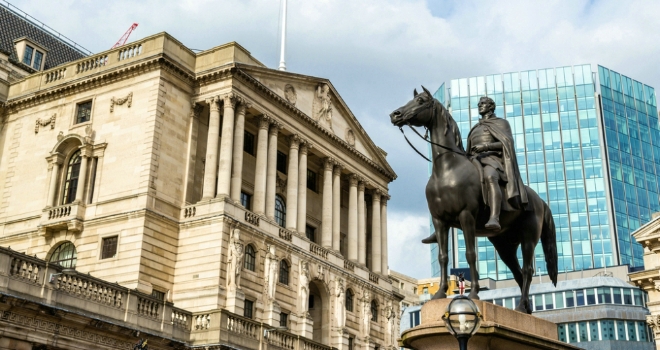 "The main argument for raising rates now is that it gives the Bank more room for manoeuvre when the next downturn hits."
In a widely expected move, the Bank of England's Monetary Policy Committee has voted unanimously to increase Bank Rate to 0.75%.
Interest rates are now at their highest level since February 2009 when they were cut from 1% to 0.5%.
The Bank cut the base rate to 0.25% in August 2016 before raising it back to 0.5% in November 2017.
In its meeting, the MPC agreed that the economic dip in the first quarter was temporary, with momentum recovering in Q2.
It also expects GDP to grow by around 1.75% per year on average which, "although modest by historical standards", is slightly faster than the diminished rate of supply growth. Additionally, CPI inflation was also pushed above its 2% target to 2.4% in June.
The MPC therefore judged that the UK economy "currently has a very limited degree of slack".
However the MPC says it "continues to recognise that the economic outlook could be influenced significantly by the response of households, businesses and financial markets to developments related to the process of EU withdrawal".
Some took this as a sign that the Bank chose to rase rates today in case of a need for further cuts down the line.
Ben Brettell, senior economist at Hargreaves Lansdown, commented: "The main argument for raising rates now is that it gives the Bank more room for manoeuvre when the next downturn hits. If interest rates are 1% or more by the time the economy sails into stormier seas, policymakers will at least be able to cut rates a couple of times before cranking up the printing presses for more QE.
"So on balance the Bank's decision looks sensible. 0.5% was supposed to be an 'emergency' level, and that was almost 10 years ago. The economy is undoubtedly much stronger today than in 2009. The mistake they made was cutting rates in response to the Brexit vote. If they'd held their nerve back then, rates might have been 1% or more by now, and policymakers' jobs would be somewhat easier today."
David Whittaker, chief executive of Keystone Property Finance and Mortgages for Business, said: "The 0.5% Bank Rate has finally met it's Waterloo. The futures market has been calling a 91% probability that the rate would move up recently – so this isn't exactly an about turn for the MPC.
"That doesn't change the fact that it can't have been an easy call for the committee to make. The jobs market aside, the economy isn't going great guns at the moment and the possibility of a no-deal Brexit – or, indeed, an early general election if the Government falls – will have made the decision harder.
"But it won't take lenders long to nail their colours to the mast and adjust their pricing, particularly those who have spent the last year absorbing costs instead of passing them onto borrowers. Shorter term fixed rates are likely to be the first to be punished. We may even see lenders hold off a little longer before adjusting five year fixed products. But mortgage rates will be going up sooner rather than later. Borrowers will have to expend a bit more blood, sweat and tears reworking their sums and cash flow projections."