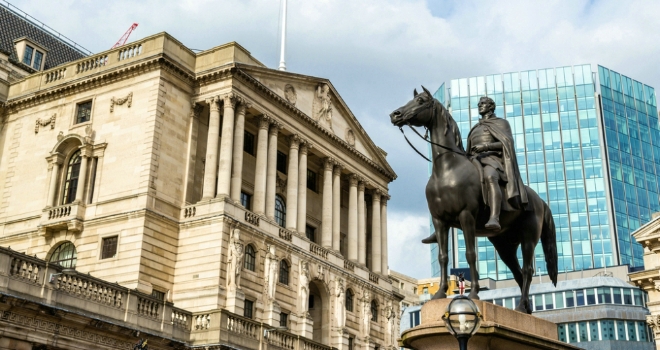 "The MPC continues to be cautious in its approach, waiting until the Brexit outcome is clearer before raising rates further."
The Committee's May Inflation Report now predicts that Bank Rate will rise to around 1% by the end of the forecast period in 2022, lower than in the February Report.
CPI inflation was 1.9% in March and is expected to be slightly further below the MPC's 2% target during the first half of the forecast period.
The MPC predicts that, if the economy develops broadly in line with its Inflation Report projections, a tightening of monetary policy would be necessary to return inflation to the 2% target.
GDP is predicted to have grown by 0.5% in 2019 Q1, but is expected to slow to around 0.2% in Q2. The Committee says the subdued pace reflects the impact of the slowdown in global growth and ongoing Brexit uncertainties.
It added that Brexit is having a "particularly pronounced impact on business investment", which has been falling for a year.
Melanie Baker, senior economist at Royal London Asset Management, said: "The Bank of England again signalled that households should expect a rate rise, not rate cut, in the next year or so. UK activity data has been mixed and Brexit-affected; measures of underlying domestic inflationary pressure don't paint a consistent picture. Alongside Brexit uncertainty, this gives them a good excuse to stay on hold for now. However, if they turn out to be right on the economy, the clear signal from the MPC today was that the policy interest rate will need to rise above 0.75%."
Frances Haque, UK Chief Economist at Santander, commented: "Given the continued uncertainty over the timing and nature of Brexit, the decision to hold rates will not be a surprise to the market.
"While growth in the first quarter of this year looks set to be stronger than previously expected, the MPC continues to be cautious in its approach, waiting until the Brexit outcome is clearer before raising rates further.
"It now looks increasingly unlikely that we will see a rate rise this year."
Laith Khalaf, senior analyst at Hargreaves Lansdown, added: "The Bank's decision to keep interest rates on hold will surprise precisely no-one, with Brexit still rattling through the political system. The MPC thinks the UK economy got a boost in the first quarter as a result of Brexit stockpiling, but anticipates this will recede in the second quarter.
"Markets are now pricing in a one in three chance of a UK rate rise by the end of this year. That looks a little rich from where we're sitting, but markets find it difficult to price something as uncertain and manifold as the possible Brexit outcomes. Precise predictions should probably therefore be taken with a pinch of salt at the moment.
"Looking at the broader picture, UK interest rates look set to remain low for the foreseeable future."