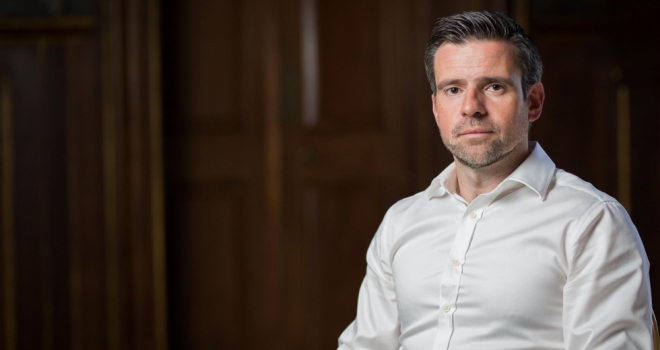 "Borrowers are searching for certainty and control of their future. Brokers that proactively reach out and engage with solutions for their clients will benefit hugely in the long run."
FR: There's been a lot of progress at Loan.co.uk recently, what's happening?
We are seeing enormous benefits from our significant investment in technology over the last six years. Building a powerful AI and robotics platform from the ground up has allowed us to increase our efficiency by over 50%. Our guiding principle has always been to dramatically improve the process of the way people borrow money in the UK.
We have automated every stage of consumer borrowing in multiple verticals, by building a faster, more accurate and cost-effective way to find and arrange the right funding. A lot of what we have built has been industry firsts, including Albot, our AI black box that can underwrite with 100% accuracy every lender in the country that has given us their criteria.
These large leaps in operational efficiency have allowed us to pass most of the savings to our clients, giving us a significant competitive advantage in the marketplace. Many conscientious brands have identified that they are referring their clients to second mortgage companies who significantly overcharge them.
Alongside the development in our technology, we have built a high-quality, highly experienced team full of product experts and managers from all around the UK. The fusion of great people using advanced technology means we can offer our partners and their clients a high value proposition focused on accuracy, speed and simplicity. Throughout the organisation we are obsessive about client and partner service.
Our second charge loans, bridging loans, development finance and mortgage product lines are all growing rapidly as we emerge from the pandemic and secure new large partnerships. It's been an exciting 12 months and a lot of fun. It's hard to believe we are already three months in to 2022 but we will enjoy a record quarter with our biggest pipeline ever!
FR: How do you cope with constant recruitment as you scale?
Finding talent is much easier when you can look anywhere in the UK and having the technology to allow us to do that is fantastic.
We continually enhance and automate the processes used to locate, interview, assess and onboard people. We have borrowed some of the Amazon methodology and customised it to suit what we need. We use automated testing to assess prospective joiners and use 'Bar Raisers' to ensure quality and cultural fit during interviews.
Once people have joined the team and are being integrated the system automatically monitors their performance. We have huge amounts of data available at the click of a button on all aspects of performance, advice, productivity, accuracy, speed and most importantly competence.
We now have a core team with the right skills and attitude to provide partners and clients with a first-class service and are actively recruiting to build on that. I think the HR and recruitment guys have done and continue to do a fantastic job for us.
FR: What are the key opportunities in a post-pandemic world?
Because we are fully independent, not reliant on outside decision makers and have the technological capability to do it, we made the decision during the pandemic to commit to a remote working model long term.
Remote working has become socially and professionally acceptable and because we have the right technology and the right people, it provides a huge opportunity which we have capitalised on. Our team are more productive, more motivated and providing a better service than ever before to our partners and clients.
The feedback from the team – they are thriving with more time and increased financial benefits by not having to commute to work every day. No public transport, parking, petrol and the rising costs associated. No more road works, queues or accidents to navigate to increase the stress levels.
We are all grateful to enjoy more time with family and friends, doing more of things we love and enjoying a greater work/life balance. It's not for everyone but for those of us its suits – it really suits. We are a team – we collaborate – we problem solve, and we execute on our goals together while we celebrate each other's lives outside of work.
FR: What are your predictions for the market in 2022 and beyond?
Purely from a consumer finance perspective it's a fantastic time of opportunity for the industry:
1. No prediction section would be complete without stating the obvious. Technology will continue to disrupt the way things are done. New technology is steadily opening the door to more transparency and better digital experiences for clients. Relentless automating key processes and workflows are fundamental to achieving operational excellence. Loan.co.uk is investing heavily to provide clients with an ability to help themselves more and to fully understand the process via our proprietary Client App. This is undoubtedly an area that will continue to take big leaps forward.
2. UK borrowers need advice more than ever before so the demand for the incredible service provided from the mortgage community is growing. Borrowers are searching for certainty and control of their future. Brokers that proactively reach out and engage with solutions for their clients will benefit hugely in the long run.
3. A continued movement toward longer term fixed products will also lead to an increased use of second mortgages. With a rise in rates, as brokers need to secure the right product at the right time for their clients' circumstances to ensure they protect low rate borrowing where appropriate.
4. Linked to point 3 - Having access to a broad spectrum of solutions is increasingly important. Whether in house or with carefully chosen partners, brokers need access to more products so their clients don't go elsewhere. Products such as second mortgages and are growing fast as viable options as we return to a more normalised market.
5. Strategic partnerships, acquisitions and joint ventures will become more prevalent in the market. We have seen a number already. In tumultuous times M&A activity tends to increase rapidly.
6. In specialist markets new lenders will continue to appear bringing innovative products to market in digitally driven ways (such as Selina Finance).
FR: You mentioned technology being a fundamental part of your offering, how does the rapidly changing technology environment affect you?
It's fantastic. Using technology to support our partners, clients and advisers is what we are all about. In 2017, we laid out plans to evolve our business fundamentally, from the inside out with a clear focus on building a client-centric, technology-driven experience for our partners and their clients. We decided to build an inhouse solution from scratch.
Through that time, we made the transformation from a brokerage with good technology to a true fintech. We beefed up our development team and outsourcing capacity and are market leading but constantly evolving the platform to operate on.
We're very proud of the system and its vast capabilities. It makes us simpler to deal with, faster, more efficient and we see productivity gains month-on-month. Most importantly we see delighted clients and happy partners – as evidenced both from direct feedback to us and through review websites.
Clients ultimately judge you and this review from reviews.co.uk put a big smile on our faces: "An all-round excellent service, highly professional, efficient, friendly... a very positive experience dealing with this company, made the whole process in fact enjoyable. Thank you for your help."
When someone calls the process of applying for a mortgage or loan enjoyable you know you are doing something right!