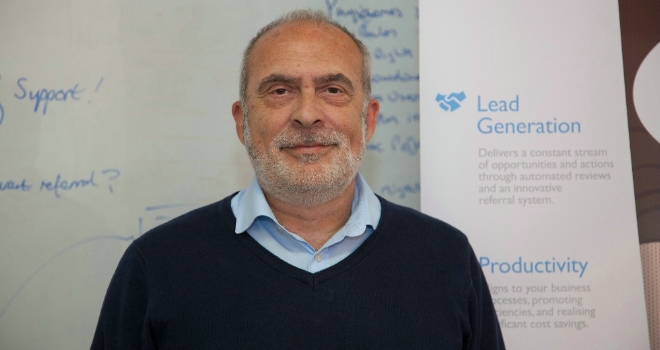 "I would say that the 30-minute mortgage process is fast becoming a reality, especially with our CRM"
We spoke to Carlos Thibaut, CEO of 360 Dot Net, about its 30-minute mortgage process and how the fintech industry will continue to evolve.
FR: 360 Dot Net are promoting the "30-minute mortgage process", is this a realistic target or just hype?
Definitely not hype! Our vision of the 30-minute mortgage comes from a refined and streamlined process that is enhanced by new and existing integrations. Client engagement plays an extremely important part of that vision, recognising that clients are willing to engage into the process to help themselves and their adviser.
An online client fact-find starts the collaboration process with the client able to enter information in their own time and on their terms. Other required items, such as requesting, signing and reading documents can be passed through a branded client portal – where actions eliminate many of meetings and chase ups required. More importantly, the introduction of a client portal establishes that digital relationship between the client and adviser with messaging, documents, free property valuations and portfolio sharing, all within a safe and secure environment.
So I would say that the 30-minute mortgage process is fast becoming a reality, especially with our CRM, client fact-find and adviser fact-find fully integrated, there's no unnecessary rekeying of data – something we know saves countless hours of duplication. With up and coming improvements such as Direct Lender Submission and the Open Banking API, advisers will see significant time savings and benefits.
FR: As the fintech industry continues to evolve, how does 360 Lifecycle utilise new opportunities to enhance the mortgage and protection sales process for advisers?
We see ourselves as responsible for delivering software that safeguards our users by taking heed of new legislative requirements as well as investigating and, where applicable, embracing new technologies. Connecting different areas of the mortgage and protection sales process is low hanging fruit, why should an adviser have to rekey data and re-upload documents that they've already handled once? If you're entering the same data into different systems, something, somewhere is broken with that process.
The mortgage process is ripe for increased digitisation with advisers able to engage the client earlier in the process and enjoy the advantages of passing necessary but lengthy tasks directly to the client. Saving time and effort to both the client and adviser is a great message – but this starts the client on a digital journey with the adviser for future engagement and servicing.
It's also worth considering our investigations into AI and Machine Learning, here there are opportunities to replace routine but complex tasks within the process. This isn't robo-advice or replacing jobs, it's looking towards those very narrow items that can be smartly automated to the betterment of all, whether this is aimed towards new levels of engagement or productivity items.
FR: Tell us a bit about 360 Lifecycle and what it can offer advisers. How does it differ from other client management systems?
Any software solution should make the world a better place and ultimately deliver value to the business. 360 Lifecycle has been in use since 2004, originally as an intermediary application, but one that has been shared and then influenced by our strategic partners and user base. Being a listening organisation gives us a fantastic understanding of the mortgage and protection sector and allows us to develop software that works for single person practices up to large DAs and Networks.
What it offers today is a set of focused applications that blends a practice management system, consumer facing apps with a fully integrated Point-Of-Sale system that supports mortgage, protection and GI sourcing with no unnecessary rekeying of data. That in itself is a powerful proposition, but with new integrations and new capabilities, we believe we have a system that delivers genuine value to all.
FR: What about 360 Dot Net? Who and how are people using 360 at the moment?
360 Dot Net supports a growing user-base of over 5,500 users. We are currently the technology partner to five networks and have over 1,500 users in the DA space. Our recent growth highlights a large number of businesses that were poorly provisioned and poorly serviced by their tech providers. As one of the few independent software vendors, we believe we offer a viable alternative to the sector.
FR: If you could see one headline about financial services in 2017, what would it be?
Advisers continuing to deliver great client outcomes and ensuring that they are imparting the best possible service. As a tech company, success for us is providing advisers with the necessary tools to deliver that service and to create a positive client experience – even better is when we reduce or eliminate inefficient elements of the process, that means we've done our job right.