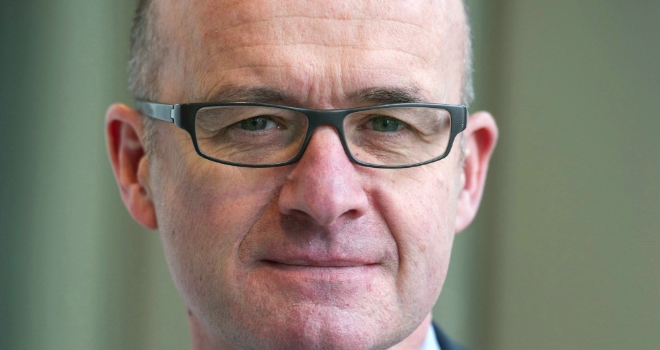 Roland McCormack, Mortgage Intermediary Director at TSB, speaks to Financial Reporter about growing the intermediary market and how the only way is up for mortgage rates.
FR: Your current job title is Mortgage Distribution Director – what does your day-to-day role involve and what issues are affecting intermediaries in the current climate?
My team is responsible for looking after over 9,000 mortgage brokers and supporting around 250 mortgage advisers based in TSB branches right across the UK. Our number one priority is making sure that we deliver great service – be that to a customer coming into one of our branches, or to the brokers we work with and their clients that we're supporting. It's really important for me to get out and about to talk to those on the front line, so at least once a month I'll spend a day visiting a mortgage broker or a TSB branch to find out what we're doing well and any areas where we need to be doing more.
For me, the two real issues impacting intermediaries at the moment are the service they receive from lenders and how they receive the appropriate procuration fee for product transfers – which recognises that there is a cost to providing advice.
At TSB we know that the service we deliver is critical for brokers as it impacts their ability to service their clients as quickly and efficiently as possible. The feedback we've received from brokers has been instrumental in the design of our new state-of-the-art mortgage sales platform, TSB Mortgage Pro. That's why we've halved the time it takes for a broker to complete a mortgage application – which now takes just 15 minutes. TSB Mortgage Pro manages the entire process, from initial enquiry through to the release of funds. We're now busy working on the delivery of phase two of the new system with our top priority being to deliver product transfer capability for brokers.
FR: Do you think the intermediary market will continue to grow? What is the key to its continuing success?
Intermediaries are consistently responsible for completing three in every four new mortgages, and I think that's certainly going to continue to be the case going forward. Customers value the independence that a broker can provide when it comes to something as significant as buying a home. Brokers provide both speed and flexibility in the way they work with their clients – which can compare with around two weeks' wait just to get a mortgage appointment with some of the big banks. In terms of growth in the intermediary market, I think that's really going to come as brokers secure an increasing share of the product transfer market as they develop ongoing relationships with their clients.
FR: How will Brexit and a low Base Rate continue to affect financial services in the coming months? Do you think mortgage rates have hit rock bottom or will economic uncertainty push rates even lower?
At TSB we're focused on helping our customers to borrow well and Brexit doesn't change that in any way. Of course, there's always a whole raft of uncertainties for any business to operate within, but whatever the economy throws at us we'll continue on our mission to bring more competition to UK banking. Our five million customers across the UK are a great sample of the UK population – and from what we can see they're showing great resilience.
Based on what I'm seeing and hearing from the market at the moment, I don't think there's scope for rates to be lower than today.
FR: How to you see technology continuing to evolve in the mortgage market and what are some of the positive and negative impacts you see of emerging tech?
In the next couple of years I think we're likely to see better integration between lenders and brokers when it comes to technology. This will ultimately make the process of securing a mortgage quicker and easier for customers and brokers. However it's very much still about providing customers with the best of both worlds – the combination of great digital and face-to-face service is important. We know that customers often like to talk to someone, and I'd expect to continue to see the majority of transactions happening face to face with a local trusted adviser.
FR: If you could see one headline about financial services in 2018, what would it be?
Speaking as a father of two girls, I'd love to see more senior female appointments in the mortgage industry. That said, we are seeing an improvement over time – we're in a much better place today than when I first started out in the mortgage business. I was in a BDM team of 12 who were all blokes! At TSB, I'm really proud of the fact that over 50% of our BDMs today are female. We're focused on creating a different type of bank – with a diverse culture that is inclusive of gender, race, disability, background, or education. Our customers come from a range of backgrounds and we want to reflect that diversity across our workforce.